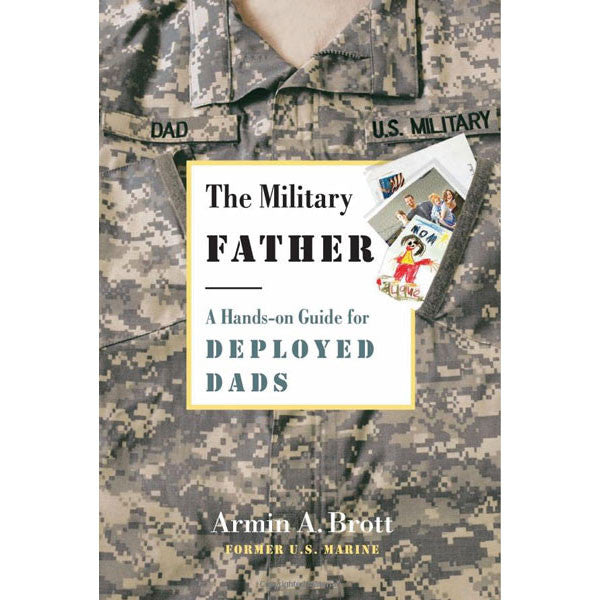 The Military Father: A Hands-on Guide for Deployed Dads
by Armin A Brott
The Military Father is a helpful resource for long-distance dads and dads-to-be who want ideas for how to be involved with their family before, during, and after their deployment. Special topics include:
Detailed, easy-to-use predeployment checklists

Issues that affect civilian contractors and nonmilitary government employees

Challenges facing Reservists and National Guardsmen when they leave and return to civilian life

What to do if your wife is going to have your baby while you're deployed

How to stay involved as a single parent

What happens when Mom deploys

An in-depth overview of child development, from pregnancy through age eighteen
Illustrated with cartoons, The Military Father is an entertaining and informative reference for deployed dads and their families.
Armin Brott is a former Marine who has devoted the last fifteen years to providing men with tools, support, and knowledge to help them become the fathers they want to be. His seven critically-acclaimed books for dads have sold more than one million copies. He writes a nationally syndicated column (Ask Mr. Dad) and hosts a syndicated radio show (Positive Parenting).
Abbeville Press
ISBN 978-0-7892-1031-9
6"x9" Paperback
328 pages
Orders received during our holiday/vacation office closings will ship on the following business day. We apologize for any inconvenience. 
Military Family Books is open Monday - Thursday 8 am - 2 pm CST. If you need help selecting resources or have special shipping needs, please call us at 651-357-8770.
Most case and bulk orders ship within one day. Noted products ship within two weeks.
Ground shipping includes USPS media mail and FedEx or UPS ground. For Priority Mail, FedEx 2 Day or other expedited shipping options, please call 651-357-8770.
For products such as ebooks and music downloads that do not require shipping, you will receive an email with a link to download your purchase.