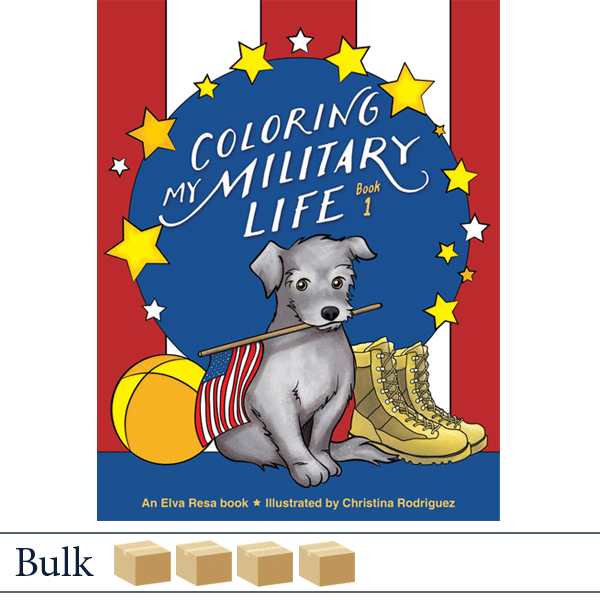 Sale
Coloring My Military Life—Book 1
Illustrated by Christina Rodriguez
1 bulk pack = 4 cases = 200 books
Military life is a colorful adventure, filled with challenges, blessings, and a whole lot of red, white, and blue. Frequent moves, deployments, and close friendships over the miles are just a few common shades. Each person in a military family lives a unique life. Elva Resa's Coloring My Military Life books let you choose your palette to express your own military life experience.
Each book contains a variety of illustrated military life situations and emotions appropriate for all ages. One-sided pages offer options to use a variety of coloring materials, take pages out of the book to frame or share, or draw your own pictures or doodles on the blank side.
Coloring My Military Life—Book 1 features level one coloring pages with simple scenes especially interesting to younger children. An adorable puppy makes snow angels, marches in a patriotic parade, and dreams of being a superhero dog.
Christina says, "This book is an ode to the family dog—the loyal and loving companion animal who helps everyone endure the frequent geographic and emotional transitions of military life." 
Christina Rodriguez is an award-winning children's book illustrator. Born overseas to multicultural parents, she grew up in an Air Force family, moving from place to place. She loved to draw and paint and was awarded a generous scholarship to the Rhode Island School of Design where she earned a fine arts degree in illustration. She drew on her experiences growing up in a military family to bring a range of emotions into her Coloring My Military Life—Book 1 coloring book pages as well as her paintings for the award-winning picture book The Wishing Tree and her illustrated activities in My Dad's Deployment and My Mom's Deployment. Christina and her husband live in historic Providence, Rhode Island.
ISBN 978-1-934617-37-3 BULK
8-1/2"x11" Softcover
64 pages, 32+ illustrations
Bulk Pack = 4 cases = 200 books
Also available:
Coloring My Military Life—Book 1 CASE
Coloring My Military Life—Book 2 CASE
Orders received during our holiday/vacation office closings will ship on the following business day. We apologize for any inconvenience. 
Military Family Books is open Monday - Thursday 8 am - 2 pm CST. If you need help selecting resources or have special shipping needs, please call us at 651-357-8770.
Most case and bulk orders ship within one day. Noted products ship within two weeks.
Ground shipping includes USPS media mail and FedEx or UPS ground. For Priority Mail, FedEx 2 Day or other expedited shipping options, please call 651-357-8770.
For products such as ebooks and music downloads that do not require shipping, you will receive an email with a link to download your purchase.