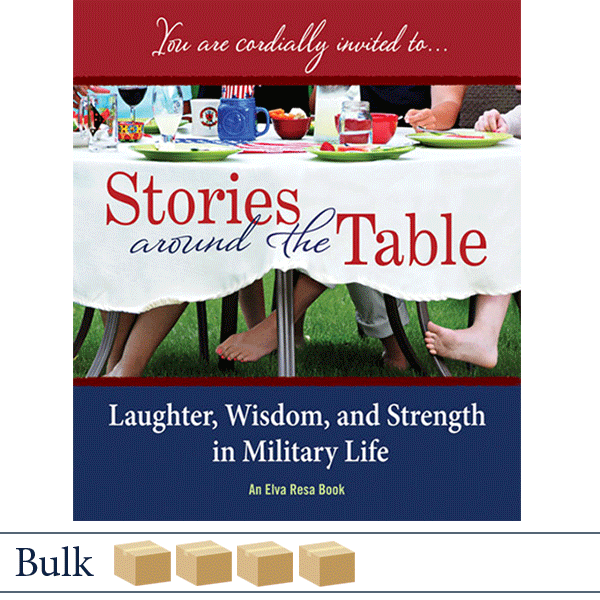 Sale
Stories Around the Table: Laughter, Wisdom, and Strength in Military Life
by more than 40 military family writers
edited by Terri Barnes
Bulk = 4 cases = 200 books

Conversations are the heart of a gathering among friends.
In Stories Around the Table: Laughter, Wisdom, and Strength in Military Life, military spouses, parents, children, and service members gather together to laugh, cry, lend perspective, and share personal stories from their military life experience. From poignant to practical, tragic to humorous, these candid conversations from friends old and new shed heartfelt insight on many aspects of military life:
~ friendship, depression, romance in military marriage, caring for children with special needs in a mobile lifestyle, renewing relationships after deployment, career challenges for spouses, changing schools, post-traumatic stress, faith, grief, and so much more ~
More than forty writers, from bestselling authors to compelling new voices, start the conversation. All are military family members. Each has a story to share.
Authors:
Anna Alexander ~ "The Day Before the Wedding" (p 98)
Stacy Allsbrook-Huisman~ "Dot to Dot, Friend to Friend" (p 15)
Samantha Andrew*~ "Growing Our Family" (p 75)
Marna Ashburn~ "Manners Still Matter" (p 195)
Terri Barnes~ "First, You're Gonna Hate It" (p 36)
Tanya Biank~ "Having It All" (p 243)
Janine Boldrin~ "Drawn and Quartered" (p 48)and "Coping With Serious Illness" (p 91)
Alison Buckholtz~ "My Oxygen Mask" (p 218)
Amy Bushatz~ "Something's Rank" (p 19)
Angela Caban~ "What Strength Looks Like" (p 226)
Randi S. Cairns~ "Military Kids in a Civilian World" (p 189)
Tara Crooks~ "Better With Battle Buddies" (p 28)
Judy Davis~ "My Son's Battle" (p 184)
Adrianna Domingos-Lupher~ "Smart Money" (p 246)
Jacey Eckhart~ "Smokin' Hot Romance" (p 140)
Janet I. Farley~ "What's Missing?" (p 258)
Julia Gibbs~ "Our Hearts Are Big Enough" (p 165)
Jacqueline Goodrich~ "Strength of a Little Warrior" (p 160)
Jocelyn Green~ "Speaking the Same Language" (p 150)
Mollie Gross~ "Tale of the Meat Man" (p 210)
Diana Hartman~ "Write in Pen" (p 12)
Artis Henderson~ "Secondary Losses" (p 104)
Kristin Henderson~ "Alive Day" (p 60)
Starlett Henderson~ "Challenging My Normal" (p 41) and "Seven Things on the Table" (p 57)
Lori Hensic~ "Stick Your Neck Out There" (p 31)
Kathie Hightower~ "Dare to Dream" (p 252)
Jeremy L. Hilton~ "Rules of the Road Less Traveled" (p 86)
Sarah Holtzmann~ "Ready-Made Family" (p 170)
Sue Hoppin~ "With a Little Help From My Friends" (p 262)
Sara Horn~ "Where My Strength Comes From" (p 71)
Benita Koeman~ "Home, Sweet Homeschool" (p 180) and "Friends in Need, Friends in Deed" (p 230)
Julie LaBelle~ "Don't Forget the Kids" (p 206)
Thomas Litchford~ "Moving the Lighthouse" (p 134)
Lisa Smith Molinari~ "Secrets of My Success" (p 234)
Brenda Pace~ "The Perfect Move" (p 44)
Chris Pape~ "Why I'm Off Base" (p 52)
Karen Pavlicin-Fragnito~ "Star Light, Star Bright" (p 115) and "Buy More Underwear" (p 223)
Susan A. Phalen~ "Our Roots: Not Deep but Far and Wide" (p 199)
Briley Rossiter~ "Loving My Sister" (p 81)
Kristine Schellhaas~ "Living for Griffin" (p 108)
Holly Scherer~ "The 'Ain't It Awful?' Club" (p 23)
Sarah Smiley~ "Taking My Medicine" (p 66) and "Locations: Yours, Mine, and Ours" (p 147)
Chris Stricklin~ "Love's Tide Stronger Flows" (p 154)
Amanda Trimillos~ "School Choices and Changes" (p 174)
Lori Volkman~ "Marriage Pig Latin" (p 122)
Elva Resa
ISBN 978-1-934617-29-8
6" x 7" Paperback
272 pages
Bulk = 200 books

Also available:
Paperback
Case=50 books
Ebook

Free Guide: Bring a Stories Experience to your community! 
Orders received during our holiday/vacation office closings will ship on the following business day. We apologize for any inconvenience. 
Military Family Books is open Monday - Thursday 8 am - 2 pm CST. If you need help selecting resources or have special shipping needs, please call us at 651-357-8770.
Most case and bulk orders ship within one day. Noted products ship within two weeks.
Ground shipping includes USPS media mail and FedEx or UPS ground. For Priority Mail, FedEx 2 Day or other expedited shipping options, please call 651-357-8770.
For products such as ebooks and music downloads that do not require shipping, you will receive an email with a link to download your purchase.