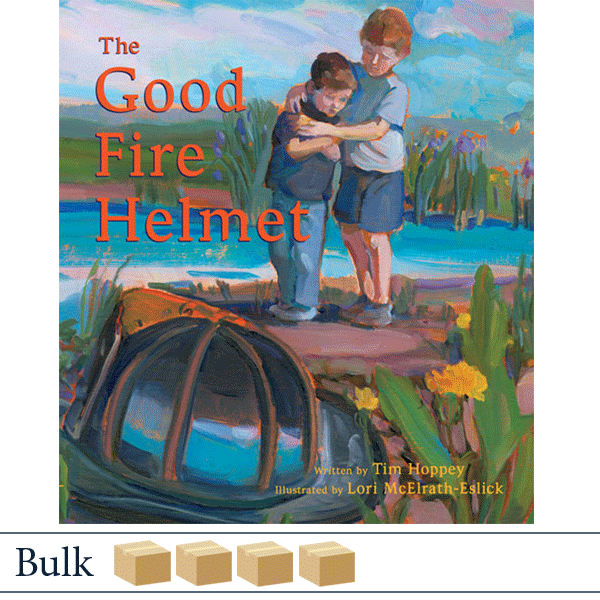 Sale
The Good Fire Helmet
by Tim Hoppey, illustrated by Lori McElrath-Eslick
Bulk = 4 cases = 200 books

Tommy and Christian treasure the firefighter's helmet that once belonged to their dad. The chaplain had told them, "If you just touch your fingers to this fire helmet, its courage can be given to you. A good fire helmet has been known to do that."
Christian believes the helmet makes him brave when he gets a shot a the doctor's office and wards off scary shadows at night, but his big brother isn't so sure. Tommy's real test of courage comes the day Christian falls into the creek and is swept downstream, along with the helmet. Tommy draws on memories of his dad—and the courage he finds inside himself—to rescue his brother.
Author Tim Hoppey was inspired to write The Good Fire Helmet after witnessing the bravery of two young sons of a fallen firefighter and realizing the courage all kids need in everyday life.
Proceeds from this book benefit the National Fallen Firefighters Foundation.
*Moms Choice Awards Gold Recipient*
Alma Little/Elva Resa Publishing
978-1-934617-06-9
8.5" x 9.5" Hardcover
32 pages
Bulk = 200 books

Orders received during our holiday/vacation office closings will ship on the following business day. We apologize for any inconvenience. 
Military Family Books is open Monday - Thursday 8 am - 2 pm CST. If you need help selecting resources or have special shipping needs, please call us at 651-357-8770.
Most case and bulk orders ship within one day. Noted products ship within two weeks.
Ground shipping includes USPS media mail and FedEx or UPS ground. For Priority Mail, FedEx 2 Day or other expedited shipping options, please call 651-357-8770.
For products such as ebooks and music downloads that do not require shipping, you will receive an email with a link to download your purchase.