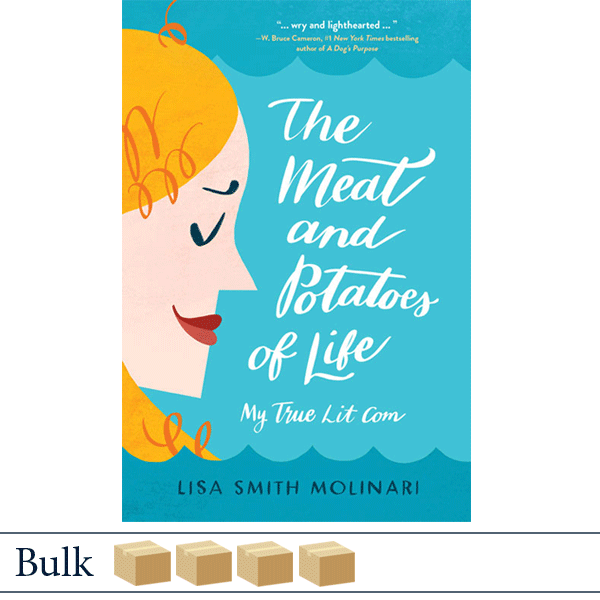 Sale
The Meat and Potatoes of Life: My True Lit Com
by Lisa Smith Molinari
1 bulk pack = 4 cases = 128 books
Please provide commercial shipping address.
Applying her wit and humor to marriage and family life, award-winning columnist Lisa Smith Molinari shares her real-life family's humorous coming of age story, from marriage through raising kids to empty nest. Written in episodes, contained in seasons, her memoir is a sitcom for book lovers!

Lisa leaves her law career to become a navy wife and Supermom, but somewhere between "I do" and "deploying again," waves of chaos threaten to overtake her. She has a husband who knows his chardonnay but can't identify a Phillips-head screwdriver, three quirky kids with their own agendas, a perpetually shedding dog, and a minivan full of cold french fries. In other words, everything she could ever want, and possibly more than she can handle.
Overwhelmed, Lisa hyperventilates when the DVR reaches 98 percent. Her eye twitches at every ping of her smartphone. She is riddled with anxiety over picking the right sugar substitute. Will she survive the endless minutiae of modern family life, or will she end up on the laundry room floor eating chocolate frosting out of a can?
Grab some popcorn, snuggle up, and get ready to binge-read Lisa's true literary comedy, her search amidst the madness to find meaning in the meat and potatoes of life.
"… wry and lighthearted …"
­­­— W. Bruce Cameron, #1 New York Times bestselling author of A Dog's Purpose
"…hilariously honest, beautifully engaging, and vividly written … A must-read."
­­­— Gina Barreca, author of They Used to Call Me Snow White … But I Drifted
" … engaging stories that resonate … pure Erma Bombeck …"
— Teri Rizvi, founder and director of the Erma Bombeck Writers' Workshop
"This is a wonderful look inside the kind of family we all want to invite home to dinner."
— Amy Newmark, editor-in-chief, Chicken Soup for the Soul
"If Erma Bombeck came back as a military wife and mother, she'd be Lisa Smith Molinari. In The Meat and Potatoes of Life, Molinari writes … with love, warmth and humor."
— Jerry Zezima, nationally syndicated humorist and author
"How is it possible to blend belly-shaking laughs with poignancy? I envy Lisa Smith Molinari's gift for stringing together laughs and lessons."
— Suzette Martinez Standring, award winning author, The Art of Opinion Writing
Elva Resa
ISBN 978-1-934617-54-0
6"x9" Hardcover
256 pages
Bulk=128 Books (4 Cases)

Also available:
Case=32 Books
Ebook: ePub version
Ebook: Kindle version

Orders received during our holiday/vacation office closings will ship on the following business day. We apologize for any inconvenience. 
Military Family Books is open Monday - Thursday 8 am - 2 pm CST. If you need help selecting resources or have special shipping needs, please call us at 651-357-8770.
Most case and bulk orders ship within one day. Noted products ship within two weeks.
Ground shipping includes USPS media mail and FedEx or UPS ground. For Priority Mail, FedEx 2 Day or other expedited shipping options, please call 651-357-8770.
For products such as ebooks and music downloads that do not require shipping, you will receive an email with a link to download your purchase.