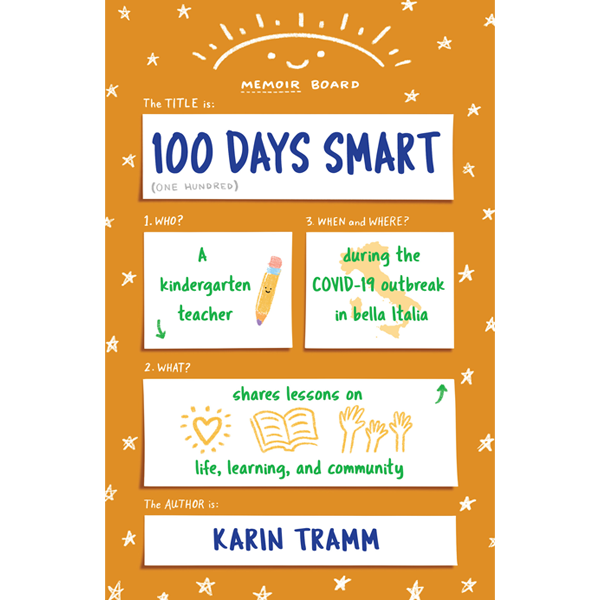 Sale
100 Days Smart
by Karin Tramm
Karin Tramm's kindergarten class at DoDEA Vicenza Elementary School on Caserma Ederle Army Base, Italy, was counting up to a magic day—the 100th day of school—when students would be 100 days smart!
"Mrs. Tramm, is that the last day of school?" a child asked."
Goodness no, there are a lot of numbers bigger than one hundred," Mrs. Tramm explained, "and we will be in school for many more days after the hundredth day."
But then, on February 21, 2020, the 100th day of school, COVID-19 changed everything. From empty classrooms to kindergarten in the kitchen, teachers, parents, and students navigated uncharted waters as their world locked down in the epicenter of the Italian outbreak. For the next 100 days, residents of Vicenza learned to find joy in simplicity, country living, and community.
In diary form, 100 Days Smart highlights their resilience, recognizing and remembering the fears and frustrations, humor and humanity of shared experiences on a new path forward.
Elva Resa
ISBN 978-1-934617-77-9
5.5"x8.5" Paperback
256 pages
Available:
Paperback
Ebook
Book Club
Case=32 Books
Bulk=128 Books


Orders received during our holiday/vacation office closings will ship on the following business day. We apologize for any inconvenience. 
Military Family Books is open Monday - Thursday 8 am - 2 pm CST. If you need help selecting resources or have special shipping needs, please call us at 651-357-8770.
Most case and bulk orders ship within one day. Noted products ship within two weeks.
Ground shipping includes USPS media mail and FedEx or UPS ground. For Priority Mail, FedEx 2 Day or other expedited shipping options, please call 651-357-8770.
For products such as ebooks and music downloads that do not require shipping, you will receive an email with a link to download your purchase.