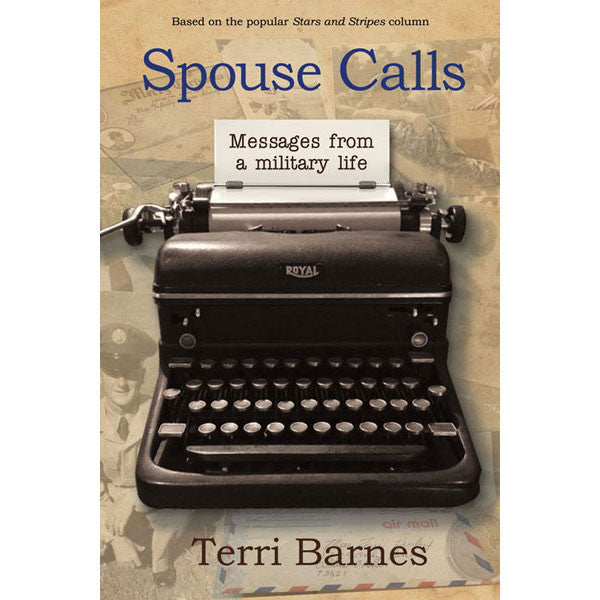 Sale
Spouse Calls: Messages From a Military Life
by Terri Barnes
Since 2007, Terri Barnes has been a touchstone for readers of Stars and Stripes through her popular weekly column, Spouse Calls. In Spouse Calls: Messages From a Military Life, Terri continues to bridge generations with a "best of" collection sure to touch the hearts and homes of every reader.
From her own kitchen table to Capitol Hill, Terri takes readers beyond the headlines and homecoming videos for an inside look at the day-to-day hardships, victories, and many ways military life shapes, challenges, and enriches its families.
Through poignant personal stories, incisive interviews, and emotive reflections, Terri's military life columns create an historical snapshot of American and world affairs, preserving an important piece of our nation's culture.
About her book, Terri says, "My hometown isn't a geographical location, but a place in American culture that is invisible to many people. My family lives in the hometown of military installations and military communities. This book is the story of the people we know and the life we live in the neighborhood of our American military life."
Elva Resa
ISBN 978-1-934617-25-0
6"x9" Paperback
192 pages
Also available:
Ebook
Case of 50 Books
Orders received during our holiday/vacation office closings will ship on the following business day. We apologize for any inconvenience. 
Military Family Books is open Monday - Thursday 8 am - 2 pm CST. If you need help selecting resources or have special shipping needs, please call us at 651-357-8770.
Most case and bulk orders ship within one day. Noted products ship within two weeks.
Ground shipping includes USPS media mail and FedEx or UPS ground. For Priority Mail, FedEx 2 Day or other expedited shipping options, please call 651-357-8770.
For products such as ebooks and music downloads that do not require shipping, you will receive an email with a link to download your purchase.