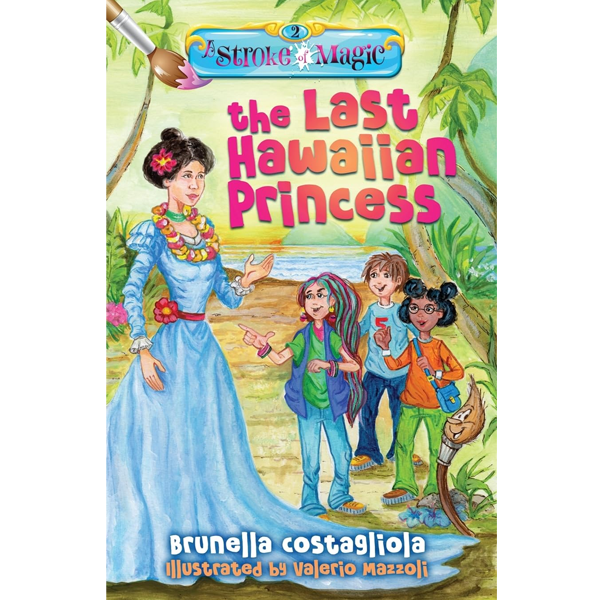 Sale
A Stroke of Magic: The Last Hawaiian Princess
by Brunella Costagliola, illustrated by Valerio Mazzoli
Spending time at Discovery Casa is always an adventure! Just ask Italian American twins Alex and Ella, and their Afro Panamanian friend Layla. The three friends are happy to be together again and even happier when they discover that the retirement home's most talented artist, Art, has a new painting to show them.
Beautiful and enigmatic, the painting shows a woman on a beach with a peacock by her side. With the help of Emet, the magical paintbrush, the three friends jump into the painting and travel back in time to the Kingdom of Hawai'i, where they meet Princess Ka'iulani. She teaches them how to make a lei, dance the hula, and the importance of preserving one's culture and language.
W. Brand Publishing
ISBN
978-1956906882
5.5"x8.5" Paperback
86 pages
Available:
A Stroke of Magic: The Last Hawaiian Princess
(PB)
A Stroke of Magic: The Dinosaur Woman
 (PB)
Orders received during our holiday/vacation office closings will ship on the following business day. We apologize for any inconvenience. 
Military Family Books is open Monday - Thursday 8 am - 2 pm CST. If you need help selecting resources or have special shipping needs, please call us at 651-357-8770.
Most case and bulk orders ship within one day. Noted products ship within two weeks.
Ground shipping includes USPS media mail and FedEx or UPS ground. For Priority Mail, FedEx 2 Day or other expedited shipping options, please call 651-357-8770.
For products such as ebooks and music downloads that do not require shipping, you will receive an email with a link to download your purchase.