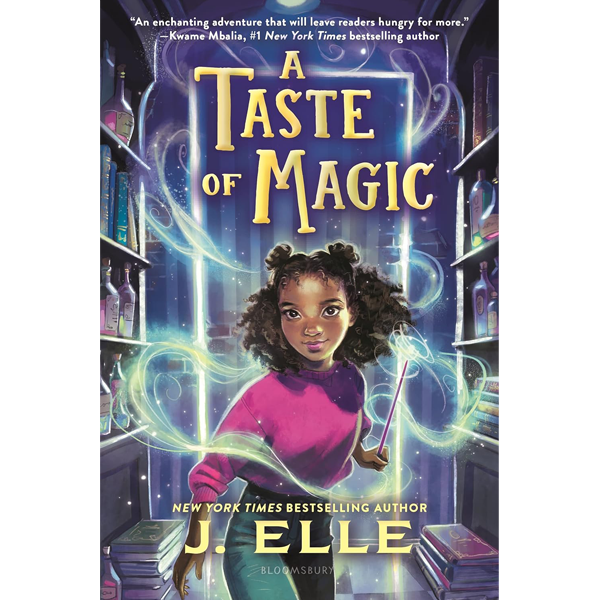 A Taste of Magic
by J. Elle

New York Times bestselling author J. Elle makes her middle grade debut in this magical series about a Black girl who learns she's a witch and must save her inner-city magic school from closing.

Kyana Turner has just found out the family secret--she's a witch! This means mandatory lessons every Saturday at Park Row Magick Academy, the magic school hidden in the back of her local beauty shop. Learning spells, discovering charms and potion recipes, and getting a wand made to match her hair's curl pattern, Kyana feels like she's a part of something really special. The hardest part will be keeping her magic a secret from non-Magick folks, including her BFF, Nae.

But when the school loses funding, the students must either pay a hefty tuition at the academy across town or have their magic stripped . . . permanently. Determined not to let that happen, Kyana comes up with a plan to win a huge cash prize in a baking competition. After all, she's learned how to make the best desserts from her memaw. But as Kyana struggles to keep up with magic and regular school, prepare for the competition, and keep her magic secret, she wonders if it's possible to save her friendships, too. And what will she do when, in the first round of competition, a forbidden dollop of magic whisks into her cupcakes?

J. Elle's debut middle grade fantasy is full of humor, heart, and mouthwatering desserts.

Bloomsbury
ISBN 9781547606719
6" x 8.6" Hardcover
304 pages
Orders received during our holiday/vacation office closings will ship on the following business day. We apologize for any inconvenience. 
Military Family Books is open Monday - Thursday 8 am - 2 pm CST. If you need help selecting resources or have special shipping needs, please call us at 651-357-8770.
Most case and bulk orders ship within one day. Noted products ship within two weeks.
Ground shipping includes USPS media mail and FedEx or UPS ground. For Priority Mail, FedEx 2 Day or other expedited shipping options, please call 651-357-8770.
For products such as ebooks and music downloads that do not require shipping, you will receive an email with a link to download your purchase.