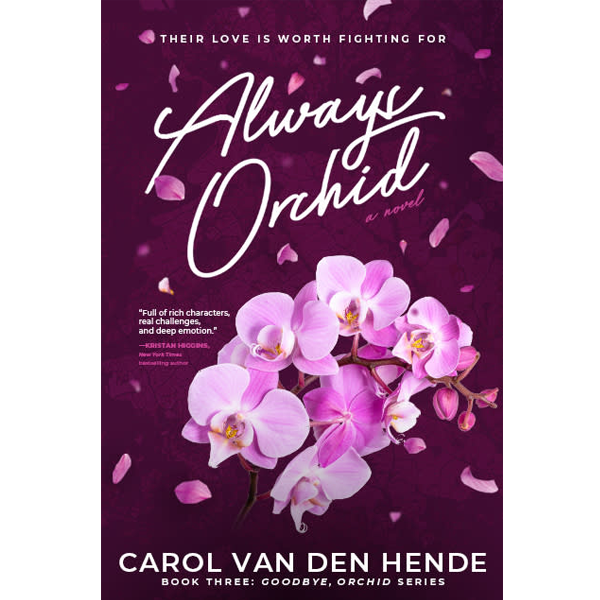 PLEASE NOTE: This title is available for PREORDER. Your card will be charged at checkout, and books will ship the week of October 24, 2023.
Always Orchid, A Novel
by Carol Van Den Hende

Shortlisted for the Hawthorne Prize for Fiction.

He almost let her go. Her trauma could tear them apart. But a love like theirs is worth fighting for…

Phoenix Walker will never be the same. Nine months after a heroic act left him forever changed, he refuses to hurt Orchid Paige ever again.

Orchid is ready to forgive. Convincing her guy she still loves him, no matter his injuries, she works to rebuild their intimacy. But their move to her family's ancestral country unveils China's superstitions against people with disabilities. Worse, their friend's life has been upended by those prejudices.

Will Phoenix and Orchid find a way to beat the odds and turn discrimination into acceptance?

Azine Press
ISBN 9781958223048
6 x 9 Paperback
346 pages
Orders received during our holiday/vacation office closings will ship on the following business day. We apologize for any inconvenience. 
Military Family Books is open Monday - Thursday 8 am - 2 pm CST. If you need help selecting resources or have special shipping needs, please call us at 651-357-8770.
Most case and bulk orders ship within one day. Noted products ship within two weeks.
Ground shipping includes USPS media mail and FedEx or UPS ground. For Priority Mail, FedEx 2 Day or other expedited shipping options, please call 651-357-8770.
For products such as ebooks and music downloads that do not require shipping, you will receive an email with a link to download your purchase.