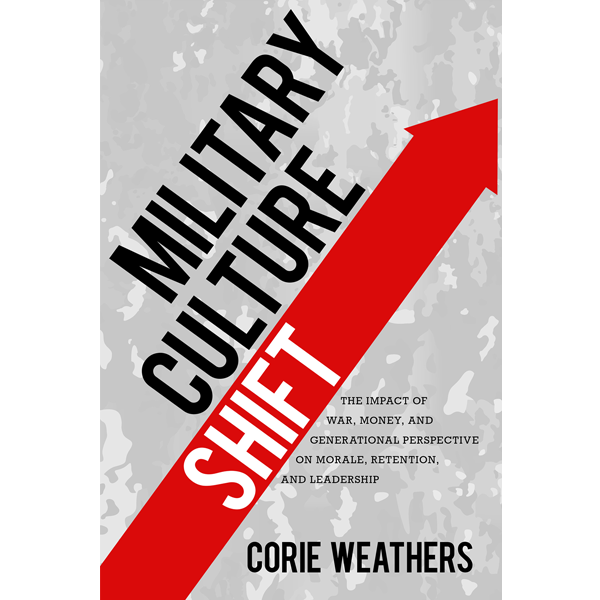 Military Culture Shift: The Impact of War, Money, and Generational Perspective on Morale, Retention, and Leadership
by Corie Weathers

A guide to understanding and leading today's US military force.
Significant shifts in military culture have created a complex set of challenges, impacting morale and motivation, recruitment and retention, and program participation.
Military Culture Shift presents the story of US military service members, their families, and the institution itself, through the lens of multiple generations and key contributing factors. A licensed counselor and leadership consultant, author Corie Weathers draws from her professional work with military families and leaders, more than 15 years of research, and her own experience as the spouse of an active-duty service member, to offer narrative history, insights, and perspectives on:
Generational viewpoints, from World War I veterans to today's recruits (Gen Z)
Short- and long-term impact of Department of Defense budget decisions
Emerging social trends within the military community, especially post-9/11
Cumulative effect of two decades of war on military family wellness
Of special interest to military leaders, service members, military family members, as well as historians, politicians, educators, and counselors, Military Culture Shift helps readers understand and embrace:
How past decisions have led to the current state
Generational differences in motivation, trust in authority, and learning styles
Communication shifts that impact cohesiveness
Leadership strategies to influence positive changes going forward
"This book is a must read for any military leader serving today ..." —General Robert B. "Abe" Abrams, US Army (Ret.)
"... worthy reading to help better understand the trials and complexities of our most precious resource in national security."—Mac Thornberry, former chairman of House Armed Services Committee
"... a phenomenal study of a vital segment of our society caught in the midst of generational change, reeling from two decades of war, and facing down the greatest threat to our national security in more than three decades."—Steven Leonard, senior assistant dean of the University of Kansas School of Business; coauthor and editor of To Boldly Go and Power Up
Elva Resa
ISBN 978-1-934617-78-6
6"x9" Hardcover
352 pages
Orders received during our holiday/vacation office closings will ship on the following business day. We apologize for any inconvenience. 
Military Family Books is open Monday - Thursday 8 am - 2 pm CST. If you need help selecting resources or have special shipping needs, please call us at 651-357-8770.
Most case and bulk orders ship within one day. Noted products ship within two weeks.
Ground shipping includes USPS media mail and FedEx or UPS ground. For Priority Mail, FedEx 2 Day or other expedited shipping options, please call 651-357-8770.
For products such as ebooks and music downloads that do not require shipping, you will receive an email with a link to download your purchase.