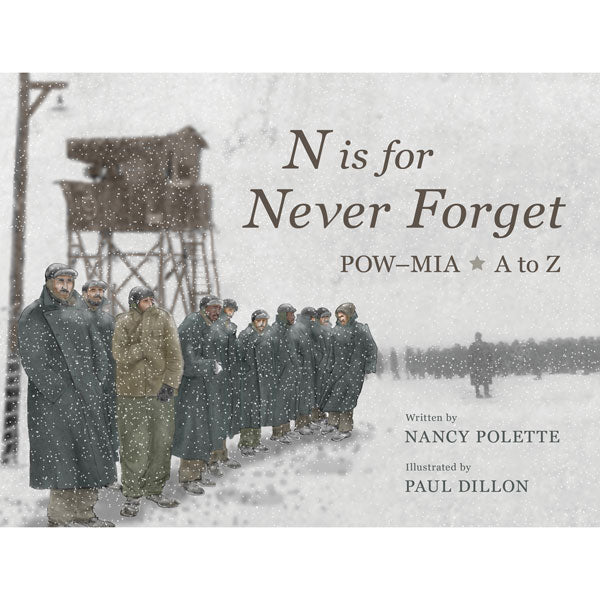 Sale
N is for Never Forget: POW–MIA A to Z
by Nancy Polette, Illust by Paul Dillon
Named a finalist for Best Juvenile Nonfiction Book of the Year in the 2017 Foreword INDIES Book of the Year Awards!
A is for Artists whose artwork reflects the hardships of prison life. E is for Escape as determined prisoners make daring plans to regain their freedom. From Geneva Conventions to Internment, Operation Homecoming to Quartermaster Corps, Tap Code to Yellow Ribbon, N is for Never Forget takes readers on a compelling journey through wartime history.
Poignant illustrations and stories capture key people, concepts, and memorials to help readers understand and honor the sacrifices endured by men and women prisoners of war and missing in action on behalf of freedom.
Engaging format interests readers of all levels. Single lines of text describe each letter's key message, while longer true stories complement full-page color illustrations and bring POW-MIA concepts to life.
Topics to Discuss and Ways to Honor sections prompt critical thinking, conversations, and calls to action to develop compassionate leaders of the future.
Ages 8+, grades 4+
Elva Resa
ISBN 978-1-934617-36-6
12-1/8" x 9-1/8" Hardcover
40 pages
Orders received during our holiday/vacation office closings will ship on the following business day. We apologize for any inconvenience. 
Military Family Books is open Monday - Thursday 8 am - 2 pm CST. If you need help selecting resources or have special shipping needs, please call us at 651-357-8770.
Most case and bulk orders ship within one day. Noted products ship within two weeks.
Ground shipping includes USPS media mail and FedEx or UPS ground. For Priority Mail, FedEx 2 Day or other expedited shipping options, please call 651-357-8770.
For products such as ebooks and music downloads that do not require shipping, you will receive an email with a link to download your purchase.