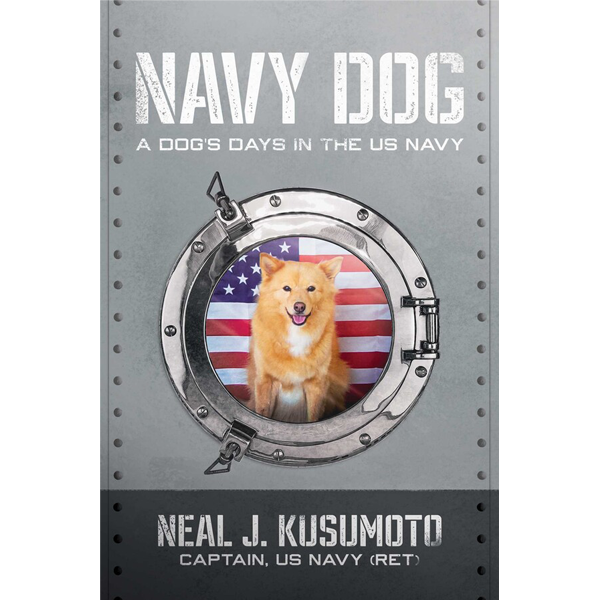 Navy Dog: A Dog's Days in the US Navy
by Neal Kusumoto

Navy Dog is a one-of-a-kind love story between a salty, battle-ready U.S. Navy crew and a little orphan dog.

Having Seaman Jenna as the mascot on the USS Vandegrift was never meant to be a statement or symbolic act, or to put the crew on the radars of four-star admirals. Jenna came aboard unannounced, a Christmas gift that brought instant joy to the crew and transformed a gray ship into a home for 225 sailors. Her addition was not pre-approved by the chain of command—contrary to military protocol. Before long, Jenna became a phenomenon—the only dog on a Navy ship since World War II—despite the best efforts to keep her from the public eye. This orphaned Shiba Inu and the displaced crew shared countless adventures and trials during her five years on board. Jenna dodged being eaten in Korea (a country that still views dogs as edible fare), sidestepped Hawaii's strict quarantine law, avoided threats of being shot in Australia, charmed a Chinese admiral, and nearly initiated an international incident in Pakistan. Jenna became a symbol of the ship and of free will, and created a bond amongst the crew that remains strong decades later…long after her death. Neal Kusumoto is proud to say that he was the captain of that fine ship, blessed with a magnificent crew that included one special sea dog. Join Seaman Jenna as a part of the crew on her five-year adventure on the high seas.

Knox Press
ISBN 9781637587737
5.5" x 8.25" Hardcover
336 pages

Orders received during our holiday/vacation office closings will ship on the following business day. We apologize for any inconvenience. 
Military Family Books is open Monday - Thursday 8 am - 2 pm CST. If you need help selecting resources or have special shipping needs, please call us at 651-357-8770.
Most case and bulk orders ship within one day. Noted products ship within two weeks.
Ground shipping includes USPS media mail and FedEx or UPS ground. For Priority Mail, FedEx 2 Day or other expedited shipping options, please call 651-357-8770.
For products such as ebooks and music downloads that do not require shipping, you will receive an email with a link to download your purchase.