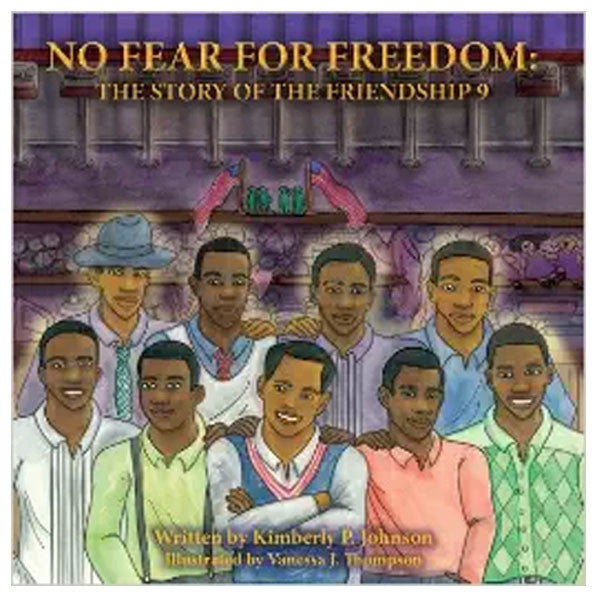 Sale
No Fear for Freedom: The Story of The Friendship 9
by Kimberly P. Johnson, illustrated by Vanessa J. Thompson
The Friendship 9, a group of college students and activists in Rock Hill, South Carolina, claimed a rightful place in history by challenging inequality and unfair laws. In 1961, their decision to help place into motion the Jail, No Bail strategy empowered many communities. As we continue to learn from our struggles and most importantly create a world free of racism and social injustice, we will inspire our future generations to do the same!
"In the words of my father, Dr. Martin Luther King, Jr., There comes a time when one must take a position that is neither safe, nor politic, nor popular, but he must take it because conscience tells him it is right. I believe that this quote describes the 1961 bravery of the Friendship 9. The story of these unsung heroes is a great example of the courage exemplified by the young people of the 1960s Movement era. Their actions were not just about seeking change in discriminatory practices against them, but to make things better for the generations that would follow them. I applaud Kimberly Johnson for telling this important story and pray that through this book, today's youth and the next generation will be inspired and encouraged to continue the Movement by standing up for what is right, for truth, and for justice." —Dr. Bernice A. King, last born daughter of Dr. Martin Luther King, Jr. and Mrs. Coretta Scott King and CEO of The King Center

"I am delighted that a book about a very crucial event in the Civil Rights Movement happened right here in Rock Hill, SC. Knowing many of the students involved, some only a few months out of high school, made me proud of their decision. My position in the community was a white religious brother working as a recreation center director at a church in the heart of the Afro-American community. After their graduation from the all black high school, namely Emmett Scott, some students would attend Friendship Junior College, which was a few blocks away. In her book, No Fear for Freedom: The Story of the Friendship 9, author Kimberly P. Johnson describes the situation very clearly. She also resounds the hope that everyone held in their heart: Let my people go." —Bro. David Boone, C.O.

Simply Creative Works
ISBN 978-1-62847-314-8
11.5" x 11.3" Hardcover
32 pages
Orders received during our holiday/vacation office closings will ship on the following business day. We apologize for any inconvenience. 
Military Family Books is open Monday - Thursday 8 am - 2 pm CST. If you need help selecting resources or have special shipping needs, please call us at 651-357-8770.
Most case and bulk orders ship within one day. Noted products ship within two weeks.
Ground shipping includes USPS media mail and FedEx or UPS ground. For Priority Mail, FedEx 2 Day or other expedited shipping options, please call 651-357-8770.
For products such as ebooks and music downloads that do not require shipping, you will receive an email with a link to download your purchase.