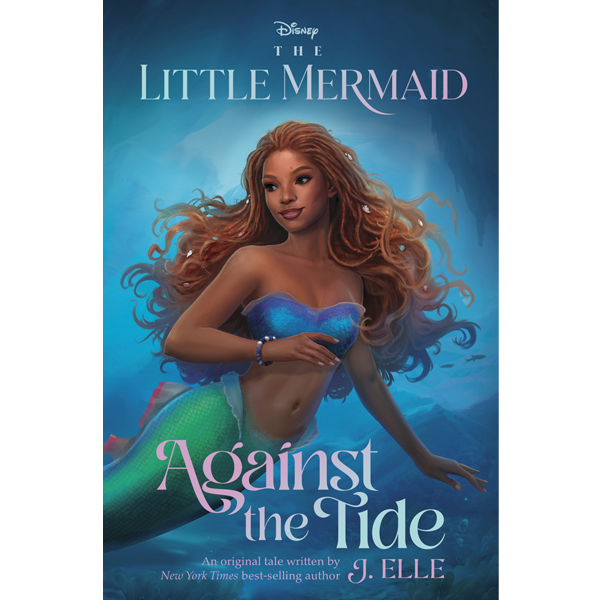 The Little Mermaid: Against the Tide
by J. Elle

After the death of Ariel's mother, the queen of the sea, the seven daughters of King Triton have grown estranged at best. It's been years since Ariel's older sisters have visited home. But this year's Coral Moon is fast approaching, and it's a special one for Ariel. Finally fifteen, she will be dubbed the Protector of her very own ocean territory as is tradition, and her sisters have agreed to visit for the celebration.

But the ceremony is halted when Mala, one of the most renowned daughters of Triton, is abducted. The only clue to where she might have been taken is a hastily scribbled seaweed note, which says, "What could have saved Mother could save me, too." To rescue Mala, Ariel must work together with her siblings, traveling to various seas, outsmarting dangerous ocean creatures, and delving into forbidden waters to find the truth of what happened to their mother. But as Ariel and her sisters begin uncovering new secrets about their family and their kingdom, Ariel will have to face the loss of a mother she never had a chance to know and discover what it means to be both a good sister and a strong leader.

And the clock is ticking, because on the day of the festival, when the moon turns a true shade of coral, her sister will be lost, like her mother, forever.

Disney Press
ISBN 9781368077224
6.3" x 9.4" Hardcover
320 pages
Orders received during our holiday/vacation office closings will ship on the following business day. We apologize for any inconvenience. 
Military Family Books is open Monday - Thursday 8 am - 2 pm CST. If you need help selecting resources or have special shipping needs, please call us at 651-357-8770.
Most case and bulk orders ship within one day. Noted products ship within two weeks.
Ground shipping includes USPS media mail and FedEx or UPS ground. For Priority Mail, FedEx 2 Day or other expedited shipping options, please call 651-357-8770.
For products such as ebooks and music downloads that do not require shipping, you will receive an email with a link to download your purchase.