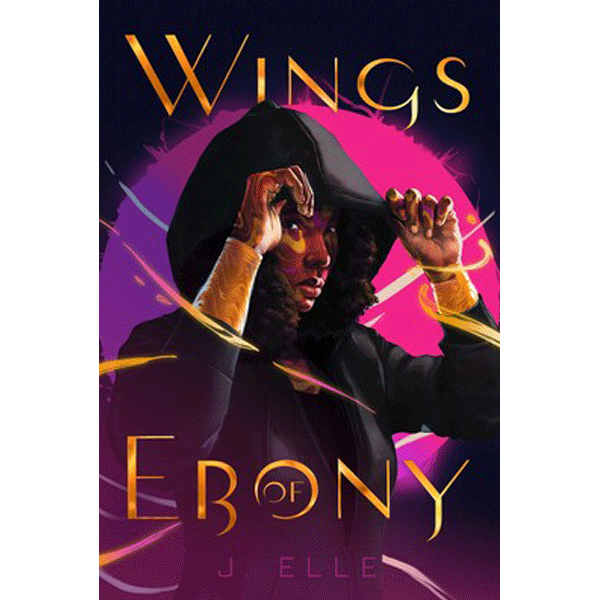 Sale
Wings of Ebony 
by J. Elle
In this riveting, keenly emotional YA fantasy, a Black teen from Houston has her world upended when she learns about her godly ancestry and must save both the human and god worlds.

Rue's family is her whole life. Moms, her sister Tasha, and the play aunties and cousins who live in East Row, the Houston neighborhood she calls home, are her world.
But Rue's life is upended when the unthinkable happens: Moms is murdered and Rue is snatched away by a father who abandoned her at birth—a father who now insists she must follow him to his home, Ghizon, a secret country of gods who wield a powerful magic.
In Ghizon, Rue's existence is a crime. There's never been a half-god, half-human there, where leaders protect their magical powers at all costs and thrive on human suffering. Miserable and desperate to see her sister on the anniversary of their mother's death, Rue breaks Ghizon's sacred Do Not Leave Law. She returns to Houston, only to discover that drugs flood the streets, Black kids are being forced into crime and violence, and Tasha is in danger of falling sway to the very forces that claimed their mother's life.
Worse still, evidence mounts that the evil plaguing East Row is the same one that lurks in Ghizon, an evil that will stop at nothing until it has stolen everything from her. Rue must embrace her true identity and wield the full magnitude of her ancestors' power to save her hood before the gods burn it to the ground. But how can she pull it off when the enemy is everywhere?

Simon & Schuster Books for Young Readers (January 26, 2021)
ISBN 9781534470675
6"x9" Hardcover
368 pages
Grades 9+, Ages 14+
Also available:
Case of 24 books
Ashes of Gold
Orders received during our holiday/vacation office closings will ship on the following business day. We apologize for any inconvenience. 
Military Family Books is open Monday - Thursday 8 am - 2 pm CST. If you need help selecting resources or have special shipping needs, please call us at 651-357-8770.
Most case and bulk orders ship within one day. Noted products ship within two weeks.
Ground shipping includes USPS media mail and FedEx or UPS ground. For Priority Mail, FedEx 2 Day or other expedited shipping options, please call 651-357-8770.
For products such as ebooks and music downloads that do not require shipping, you will receive an email with a link to download your purchase.