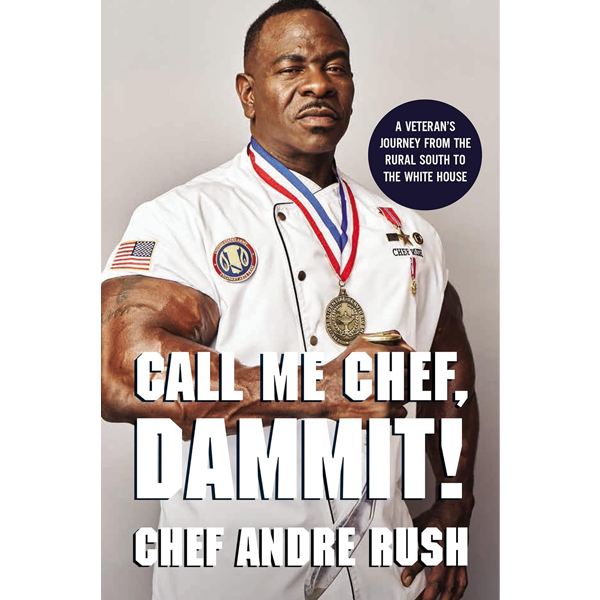 Call Me Chef, Dammit!: A Veteran's Journey from the Rural South to the White House
by Andre Rush

What does it take to go from growing up in a Mississippi housing project to becoming a master sergeant and a celebrity chef serving in the White House under four United States presidents?

Call Me Chef, Dammit! is the inspiring story of Andre Rush, who became an overnight sensation in 2018, after a photograph of his now-famous twenty-four-inch biceps went viral. However, his journey to that moment could never be captured in a fleeting moment.

From his childhood working on a farm, to his developing into a gifted athlete and artist to his joining the Army, Rush has dedicated his life to serving others. During his twenty-four-year military career, his reputation as an award-winning cook eventually led him to the Pentagon. His presence in the building when the plane struck on 9/11/2001 led to his suffering from PTSD, and he has become an outspoken advocate for the military and especially for wounded warriors.

Every step of the way, Chef Rush has overcome tremendous obstacles, including battling stereotypes and racism. And in this memoir, he shares not only his wounds and what he experienced along the road to recovery but also the optimism, hope, and hard-earned wisdom that have encouraged countless others.

HarperCollins
ISBN 9780785249450
6.3" x 9.3" Hardcover
240 pages

Orders received during our holiday/vacation office closings will ship on the following business day. We apologize for any inconvenience. 
Military Family Books is open Monday - Thursday 8 am - 2 pm CST. If you need help selecting resources or have special shipping needs, please call us at 651-357-8770.
Most case and bulk orders ship within one day. Noted products ship within two weeks.
Ground shipping includes USPS media mail and FedEx or UPS ground. For Priority Mail, FedEx 2 Day or other expedited shipping options, please call 651-357-8770.
For products such as ebooks and music downloads that do not require shipping, you will receive an email with a link to download your purchase.