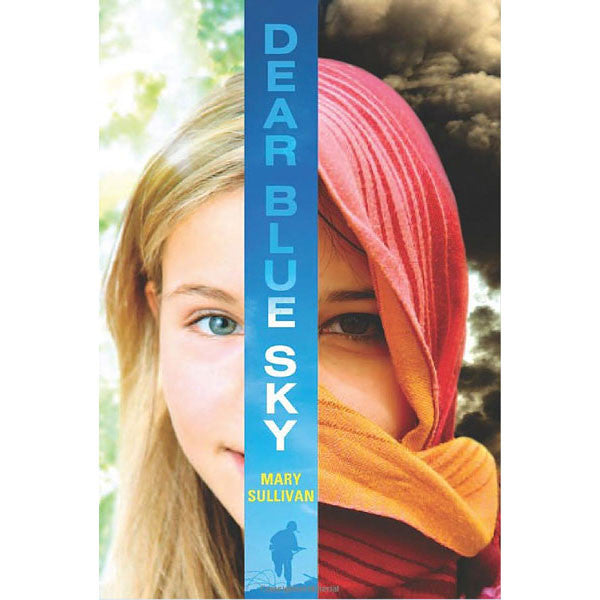 Dear Blue Sky
by Mary Sullivan
In this middle-grade novel, seventh-grader Cassie feels like her world is falling apart. Her brother is fighting in Iraq, her parents are fighting about Irag, and her sister is making all kinds of bad decisions. Her best friend, Sonia, has stopped speaking to her, and her little brother has stopped talking altogether. Cassie's only relief comes from daily runs and hanging out with Kimberly Love, the offbeat classmate who has surprised Cassie with friendship after Sonia and her crowd dropped her.
Cassie's perspective on things shifts when she discovers Blue Sky's blog. Blue Sky, an Iraqi girl, seems so similar to Cassie, yet her world really is falling apart. The girls begin a correspondence. Cassie takes strength from Blue Sky's courage and is inspired to reclaim her life.
REVIEWS
"The complexity of war is a challenge in a book for middle-schoolers, but Sullivan gets it right. Cassie's family, honest and hurting, behaves in ways disjointed, unpredictable, and also occasionally heroic. . . . Just as in war, Cassie finds there are no easy answers." —The Horn Book
"Effectively captures the messiness of life in a loving family, when outside-world events intervene. Through it all, Cassie discovers her own strengths and rallies everyone around her. . . . A compassionate portrait of a family struggling with painful changes." —Kirkus Reviews
"Doesn't sugarcoat how hard things are for Cassie's family on the home front, yet captures the resilience and hope that keeps them going." —Publishers Weekly

"Absorbing. . . . Shows how being forced to face the deadly realities of war can deepen a teenager's understanding of life. . . . Cassie discovers both a dark truth about the world and a way to appreciate her own life." —The New York Times Book Review
Penguin
ISBN 978-0-142-42667-8
5.8" x 8.5" Paperback
248 pages
Ages 10+


Also available:
Middle Grade Readers Gift Pack
Orders received during our holiday/vacation office closings will ship on the following business day. We apologize for any inconvenience. 
Military Family Books is open Monday - Thursday 8 am - 2 pm CST. If you need help selecting resources or have special shipping needs, please call us at 651-357-8770.
Most case and bulk orders ship within one day. Noted products ship within two weeks.
Ground shipping includes USPS media mail and FedEx or UPS ground. For Priority Mail, FedEx 2 Day or other expedited shipping options, please call 651-357-8770.
For products such as ebooks and music downloads that do not require shipping, you will receive an email with a link to download your purchase.