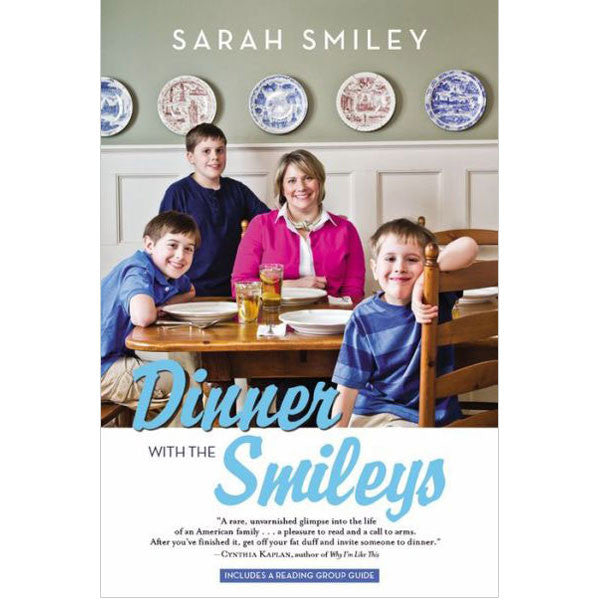 Sale
Dinner With the Smileys: One Military Family, One Year of Heroes, and Lessons for a Lifetime
by Sarah Smiley 
The uplifting true story of a wife and mother's yearlong experience inviting one new guest (from senators to school teachers, artists to professional athletes) to dinner for each week that her husband was deployed overseas.

But DINNER WITH THE SMILEYS isn't really about dinner. And it's not about the military. It's about 250 strangers who came together to help raise three boys (one on the cusp of adolescence) in the absence of their father. It's a love story about marriage, motherhood, and the power of community.

Inside this personal story are the universal issues of loss, grief, loneliness, regrets, sacrifice, and, ultimately, unexpected joy and finding one's own strength.
Hachette Books
ISBN 978-0316408943
5.5" x 8" Paperback
384 pages
Also available:
Stories Dinner Gift Pack
Orders received during our holiday/vacation office closings will ship on the following business day. We apologize for any inconvenience. 
Military Family Books is open Monday - Thursday 8 am - 2 pm CST. If you need help selecting resources or have special shipping needs, please call us at 651-357-8770.
Most case and bulk orders ship within one day. Noted products ship within two weeks.
Ground shipping includes USPS media mail and FedEx or UPS ground. For Priority Mail, FedEx 2 Day or other expedited shipping options, please call 651-357-8770.
For products such as ebooks and music downloads that do not require shipping, you will receive an email with a link to download your purchase.