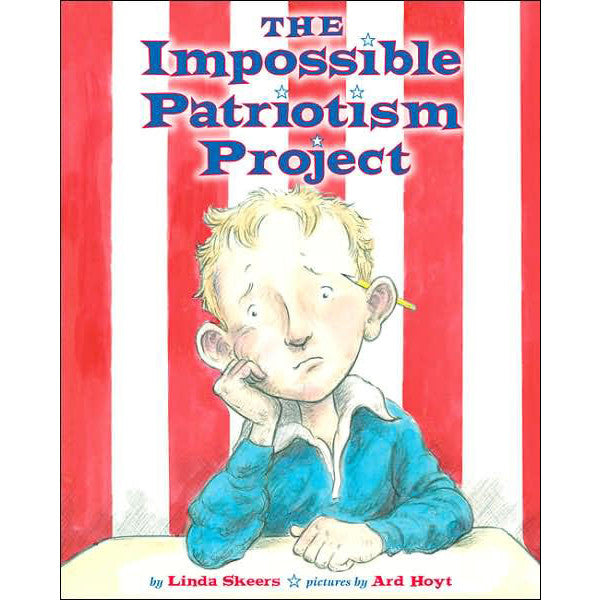 The Impossible Patriotism Project
by Linda Skeers, illustrated by Ard Hoyt
Caleb's class is making projects that represent patriotism to display at Parents' Night. Molly dresses up like the Statue of Liberty and Kareem draws a map of the United States. But Caleb can't think of a single way to show what patriotism means to him. Besides, his dad can't even come to Parents' Night because he is far away, serving as a soldier. Then, when Caleb really starts thinking about his dad and what he is doing for the country, inspiration finally strikes!
About the author
Linda Skeers was inspired to write this book by this event: One July 4th, her nephew's apartment building held a balcony-decorating contest. Not able to afford fancy store-bought decorations, her nephew, who had just returned from overseas military duty, hung his service uniform from his balcony with a sign that said: "I served my country." He won the contest. Ms. Skeers lives in Iowa with her husband, a former US Air Force officer, and two sons. 
ISBN 978-0-1424-1391-3
10.1" x 7.4" Paperback
32 pages
Orders received during our holiday/vacation office closings will ship on the following business day. We apologize for any inconvenience. 
Military Family Books is open Monday - Thursday 8 am - 2 pm CST. If you need help selecting resources or have special shipping needs, please call us at 651-357-8770.
Most case and bulk orders ship within one day. Noted products ship within two weeks.
Ground shipping includes USPS media mail and FedEx or UPS ground. For Priority Mail, FedEx 2 Day or other expedited shipping options, please call 651-357-8770.
For products such as ebooks and music downloads that do not require shipping, you will receive an email with a link to download your purchase.