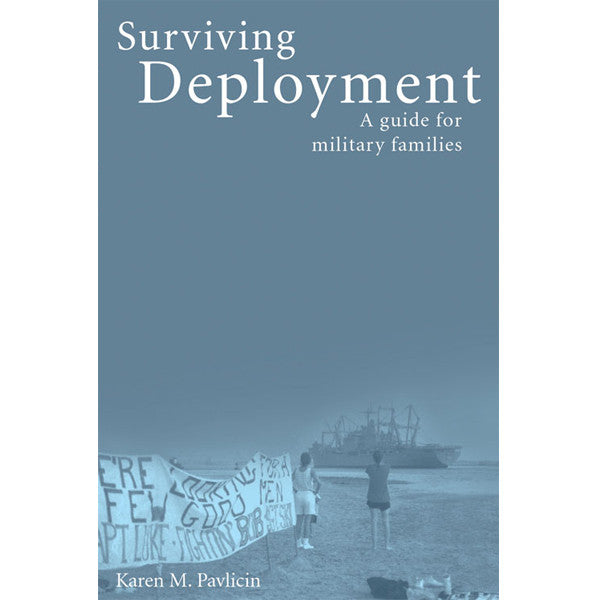 Sale
LIMITED QUANTITIES (If this item shows an Out of Stock message, please call 651-357-8770 for current availability from our other warehouses.)
Surviving Deployment: A guide for military families
by Karen Pavlicin
Surviving Deployment is your personal guide to turning an otherwise lonely and challenging situation into a positive experience.
Learn what to expect, how to prepare, and how to personally grow as individuals and families. Your survival gear will range from a sturdy toilet plunger to the fine art of letter writing. You'll manage financial changes, help children express their feelings, and discover a renewed appreciation for everyday life. Solid information. Practical checklists. Personal stories from hundreds of families.
Awarded the Military Writers Society of America's Gold Medal for best reference book.
About the Author
Karen Pavlicin is an award-winning writer known for her practicality, insight, and sense of humor. Her challenging yet positive experiences during her Marine husband's many deployments, and her volunteer experience working with military families, inspired her to write this book.
ISBN 0965748367
6"x9" paperback
320 pages
Also available:
Life After Deployment

Orders received during our holiday/vacation office closings will ship on the following business day. We apologize for any inconvenience. 
Military Family Books is open Monday - Thursday 8 am - 2 pm CST. If you need help selecting resources or have special shipping needs, please call us at 651-357-8770.
Most case and bulk orders ship within one day. Noted products ship within two weeks.
Ground shipping includes USPS media mail and FedEx or UPS ground. For Priority Mail, FedEx 2 Day or other expedited shipping options, please call 651-357-8770.
For products such as ebooks and music downloads that do not require shipping, you will receive an email with a link to download your purchase.