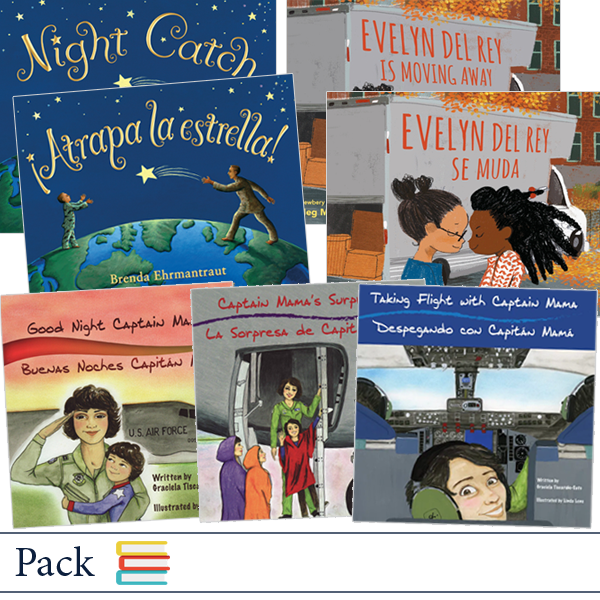 Sale
Spanish-English Picture Book PACK 1
This gift pack is perfect for classrooms, libraries, and homes with bilingual readers.

This 7-book pack includes: one paperback copy of ¡Atrapa la estrella (Spanish) and Night Catch (English), one hardcover copy of Evelyn del rey se muda (Spanish) and Evelyn del Rey Moves Away (English), and one paperback copy of each book in the Captain Mama series (bilingual Spanish/English).
¡Atrapa la estrella! (Spanish edition) and Night Catch (English edition)
por Brenda Ehrmantraut, ilustrado por Vicki Wehrman, traducción de Ana Stevenson
Cuando un soldado se tiene que ir al otro lado del mundo por su trabajo, él y su hijo juegan un juego con la Estrella del Norte. ¡Atrapa la estrella! es una historia eterna que ayuda a las familias a sentirse conectadas, aun cuando están separadas.
When a soldier has to go to the other side of the world for his work, he and his son play a game with the North Star. ¡Atrapa la estrella! is a timeless story that helps families feel connected, even when they are separated.
International Latino Book Awards - Gold winner!
Elva Resa
ISBN 978-1-934617-60-1 (Spanish), ISBN 978-1-934617-28-1 (English)
10" x 8.5" Paperback
32 pages
Evelyn Del Rey Se Muda (Spanish edition) and Evelyn Del Rey Is Moving Away (English edition) 
por Meg Medina, ilustrado por Sonia Sánchez, traducción de Teresa Mlawer
Evelyn Del Rey es la mejor amiga de Daniela. Hacen todo juntas e incluso viven una al frente de la otra en la misma calle en apartamentos que son casi iguales: Daniela con su mami y su hámster, y Evelyn con su mami, su papi y su gato. Pero no después de hoy—no después de que Evelyn se mudé de su casa. Mientras tanto, las niñas juegan entre las cajas de mudanza hasta la hora de despedirse, y se prometen mantenerse en contacto, pues saben que su amistad siempre será especial.

Evelyn Del Rey is Daniela's best friend. They do everything together and even live in twin apartments across the street from each other: Daniela with her mami and hamster, and Evelyn with her mami, papi, and cat. But not after today—not after Evelyn moves away. Until then, the girls play amid the moving boxes until it's time to say goodbye, making promises to keep in touch, because they know that their friendship will always be special.
Candlewick Press
ISBN 9781536213348 (Spanish), ISBN 9781536207040 (English)
10 5/8" x 8 5/8" Hardcover
32 pages
Captain Mama series (Bilingual, Spanish-English)
por Graciela Tiscareno-Sato, ilustrado por Linda Lens

Written by a Latina former military aviator, this bilingual children's book series presents the stories in English and Spanish.
(1) Good Night Captain Mama / Buenas Noches Capitán Mamá
On his way to his bedroom, Marco notices his mama in an olive-green military flight suit. His curiosity about the colorful patches on her uniform evolves into a sweet, reassuring bedtime conversation between a military mother and her child about why she serves and what she does in the unusual KC-135R aerial refueling airplane. Marco drifts off to sleep with thoughts of his mama in the airplane and the special surprise she gave him stuck to his fleece pajamas.

Marco ve a su mamá con su traje de vuelo militar. Sus preguntas sobre los parches provocan una conversación sobre por qué las mamás sirven en las Fuerzas Armadas y usan uniformes. Incluye recursos educativos y una plantilla de actividad artística.
(2) Captain Mama's Surprise / La Sorpresa de Capitán Mamá
Marco and his sisters, whose mama is a US Air Force aviator, visit the KC-135 aerial refueling tanker on a field trip with Marco's second grade class. The children and their teachers meet the aircrew and the crew chief, tour the airplane to understand its unique parts and learn what each crew member does as they work together onboard this gas station in the sky. Includes a STEM activity for children to learn basic aircraft terms and structure, plus glossaries in Spanish and English of aviation terms in the text.
La clase de Marco va de excursión al avión tanquero de reabastecimiento de combustible de la Fuerza Aérea donde trabaja su mamá. Incluye actividad STEM bilingüe
"¿Dónde está el esqueleto del avión?"
(3) Taking Flight With Captain Mama / Despegando con Capitán Mamá
Marco and his friends take flight on the KC-135 refueling tanker! They see Captain Mama and her aircrew in action refueling some of the coolest jets in the Air Force, and witness what happens when an emergency suddenly arises in flight. This book includes a glossary of aviation terms plus an activity to make an origami paper airplane of the unique planes seen in the story!

En el tercer libro bilingüe de la premiada serie sobre aviación Capitán Mamá, Marco y sus compañeros se van de excursión en el avión tanquero de reabastecimiento aéreo KC-135R. Los estudiantes y sus maestras reciben una sesión de información acerca de la misión, y observan lo que hace cada miembro de la tripulación para preparar el avión para el vuelo. Ya en el aire, son testigos de cómo la tripulación reabastece de combustible varios aviones furtivos de la Fuerza Aérea de los EE.UU., y de los procedimientos en caso de emergencia. El libro incluye un proyecto de origami, glosarios y recursos educativos, todos bilingües.
Gracefully Global Group LLC
ISBN 978-0983476030 (Good night), ISBN 978-0997309034 (Surprise), ISBN 978-0997309096 (Taking Flight)
8-1/2" x 8-1/2" Paperback
40/40/60 pages
Spanish-English Picture Book Pack 1 includes one copy of each book
¡Atrapa la estrella!
Night Catch
Evelyn Del Rey Se Muda 
Evelyn Del Rey Is Moving Away
Good Night Captain Mama / Buenas Noches Capitán Mamá
Captain Mama's Surprise / La Sorpresa de Capitán Mamá
Taking Flight With Captain Mama / Despegando con Capitán Mamá
Orders received during our holiday/vacation office closings will ship on the following business day. We apologize for any inconvenience. 
Military Family Books is open Monday - Thursday 8 am - 2 pm CST. If you need help selecting resources or have special shipping needs, please call us at 651-357-8770.
Most case and bulk orders ship within one day. Noted products ship within two weeks.
Ground shipping includes USPS media mail and FedEx or UPS ground. For Priority Mail, FedEx 2 Day or other expedited shipping options, please call 651-357-8770.
For products such as ebooks and music downloads that do not require shipping, you will receive an email with a link to download your purchase.