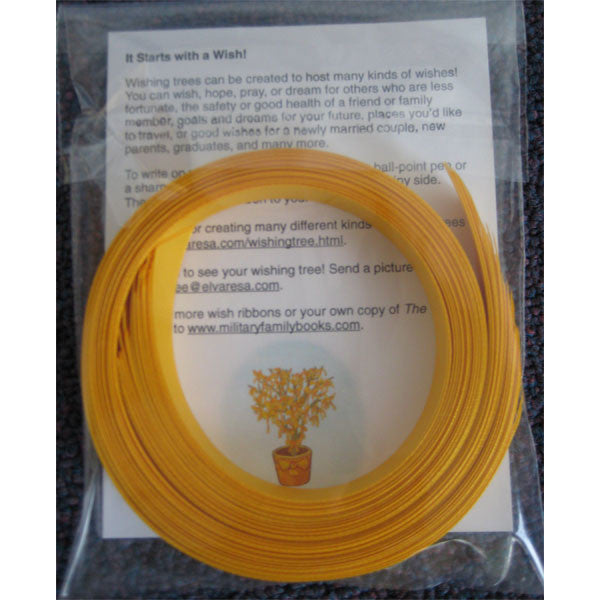 Wish Ribbons
Make your own wishing tree when you order our special Wish Ribbons! You'll receive a package of 31 wish ribbons (enough for 31 days of wishes!) in a resealable bag. Each ribbon is 18" long and 5/8" wide and can be written on with a regular ball-point pen or a sharp pencil or crayon (write on the nonshiny side then tie the ribbon with the shiny side showing).
It starts with a wish!
Wishing trees can be created to host many kinds of wishes. You can wish, hope, pray, or dream for others who are less fortunate, the safety or good health of a friend or family member, goals and dreams for your future, places you'd like to travel, or good wishes for a newly married couple, new parents, graduates, and many more.
You can create a wishing tree in your own home, or in a classroom, family assistance center, church, organization, or business. 
Wishing tree ideas:
Amanda's Wishing Tree
1. Select a small tree or plant (artificial or real) or use branches supported by florist foam.
2. Using a fabric pen, write your wishes on our special wish ribbons and tie them to the branches.
Bulletin Board Wishing Tree
1. Hang on a wall a premade bulletin board, cork board, heavyweight poster board, or flannel board.
2. Cut out a bare tree with several long branches using construction paper or flannel. Tack, tape, or staple your tree to the bulletin board.
3. Have students, family members, or other participants write wishes, hopes, and prayers on our special wish ribbons and tack to the tree.
Box of Wishes
1. Select a box with a lid. Cut an opening in the box top or use a liftable lid.
2. Decorate the box with photos of a person you are wishing on behalf of, a drawing of a tree, or other decoration. 3. Write wishes on our special wish ribbons and put into the box.
Jar of Wishes
1. Choose a large clear container with an easy on/off lid, such as a large pickle jar or candy jar.
2. Decorate the jar with permanent marker, paint, or pasted paper or leave the jar clear if you want to see the wishes.
3. Write your wishes on our special wish ribbons.
4. Put the wishes in the jar for a colorful display of wishes.
Styrofoam Wishing Tree 
1. Begin with a styrofoam cone, with the flat edge down. Spraypaint or decorate the cone.
2. Write wishes on our special wish ribbons.
Holiday Wishing Tree
Using your normal holiday tree, write wishes on our special wish ribbons and decorate with your wishes and hopes for others.
Elva Resa
Wish Ribbons
18" x 5/8"
Pack of 31
Also available:
Pack of 50 Wish Ribbons
Case of 50 Paperback Books

Orders received during our holiday/vacation office closings will ship on the following business day. We apologize for any inconvenience. 
Military Family Books is open Monday - Thursday 8 am - 2 pm CST. If you need help selecting resources or have special shipping needs, please call us at 651-357-8770.
Most case and bulk orders ship within one day. Noted products ship within two weeks.
Ground shipping includes USPS media mail and FedEx or UPS ground. For Priority Mail, FedEx 2 Day or other expedited shipping options, please call 651-357-8770.
For products such as ebooks and music downloads that do not require shipping, you will receive an email with a link to download your purchase.