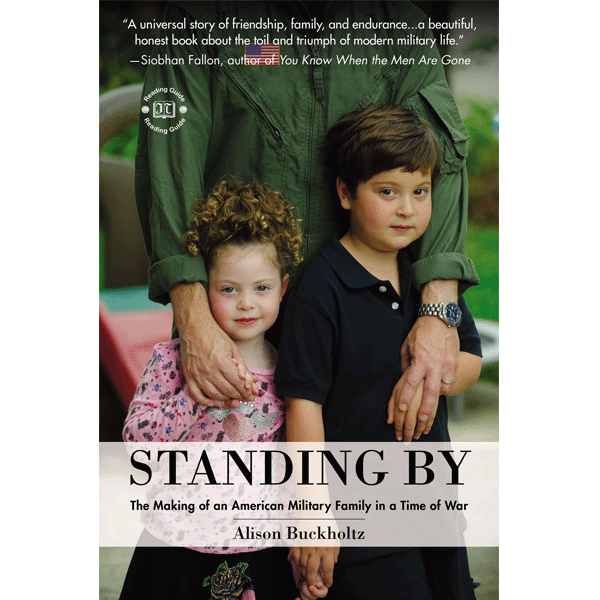 Standing By
by Alison Buckholtz
More than two million U.S. service members have been deployed to Iraq or Afghanistan in the last decade. More and more of these veterans are writing about their wartime experience, but few military spouses have shared the truth about what it's like when a loved one leaves for battle.
Standing By is Alison Buckholtz's candid account of her family's struggles during her husband's eight-month deployment on an aircraft carrier in the Persian Gulf during Operation Iraqi Freedom and a subsequent year-long deployment to Iraq. With insight and humor she describes trying to keep life as normal as possible for the couple's two young children while transitioning into the unfamiliar – and at times unwelcome –role of military wife. Throughout both deployments, a remarkable and surprising series of events challenges her long-held assumptions about the military, motherhood, and even the nature of American citizenship.
A rare and intimate portrait of a family that represents America's fast-growing population of service members and veterans, Standing By is a window into what matters for families everywhere.
Alison Buckholtz's articles and essays have appeared in The New York Times, Washington Post and Washington Post Magazine, Real Simple, Forbes Global, Salon.com and many other publications. She was a resident of Washington, D.C. before she married into the military and now lives in Washington State with her husband and two children. 
Alison also contributed to Military Life: Stories and Poems for Children and Stories Around the Table: Laughter, Wisdom, and Strength in Military Life.
Penguin
ISBN 978-0-399163-79-1
5.5" x 8.2" paperback
336 pages
Orders received during our holiday/vacation office closings will ship on the following business day. We apologize for any inconvenience. 
Military Family Books is open Monday - Thursday 8 am - 2 pm CST. If you need help selecting resources or have special shipping needs, please call us at 651-357-8770.
Most case and bulk orders ship within one day. Noted products ship within two weeks.
Ground shipping includes USPS media mail and FedEx or UPS ground. For Priority Mail, FedEx 2 Day or other expedited shipping options, please call 651-357-8770.
For products such as ebooks and music downloads that do not require shipping, you will receive an email with a link to download your purchase.