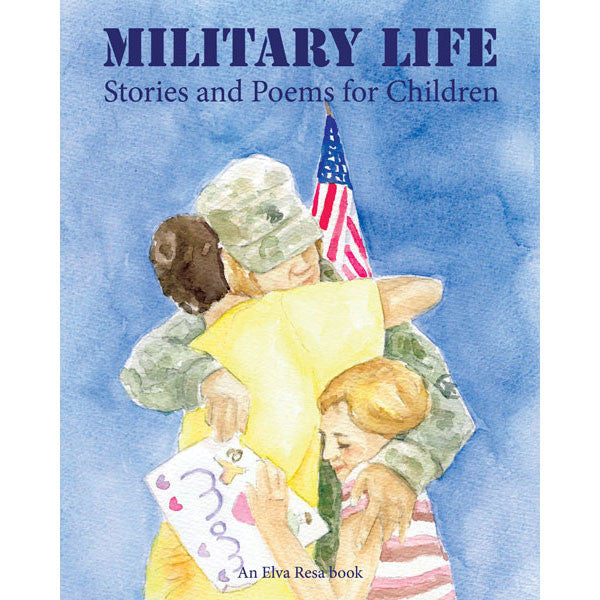 Sale
Military Life: Stories and Poems for Children
written by Various Authors and illustrated by Quinette Cook
This collection of original stories and poems touches on many aspects of military life from a child's point of view. From moving to making new friends, deployment, homecoming, patriotism, and tender family moments, Military Life gives a glimpse of the many joys and challenges military children experience.
Contents:
"Just Like You!" by Julie LaBelle
"My Space" by Donna Portelli
"Best Friends" by Judy Hissong
"My Daddy Jumps Today" by Michelle Tonsmeire
"Mama's Been Called Up" by Charlene Kochensparger
"Saying Goodbye" by Peggie Brott
"The Good Day" by Alison Buckholtz
"Holding Mom's Kite" by Jennifer Jesseph
"When Mommy Comes Home" by Amy Houts
"When Daddy Comes Home" by Amy Houts
"Love Letters" by Karen Pavlicin
"It's Five O'Clock" by Cindy Shaw
"Good Night" by Christy Lyon
Illustrations by Quinette Cook
Elva Resa
ISBN 978-1-934617-09-0
8" x 10" Softcover
48 pages
Orders received during our holiday/vacation office closings will ship on the following business day. We apologize for any inconvenience. 
Military Family Books is open Monday - Thursday 8 am - 2 pm CST. If you need help selecting resources or have special shipping needs, please call us at 651-357-8770.
Most case and bulk orders ship within one day. Noted products ship within two weeks.
Ground shipping includes USPS media mail and FedEx or UPS ground. For Priority Mail, FedEx 2 Day or other expedited shipping options, please call 651-357-8770.
For products such as ebooks and music downloads that do not require shipping, you will receive an email with a link to download your purchase.