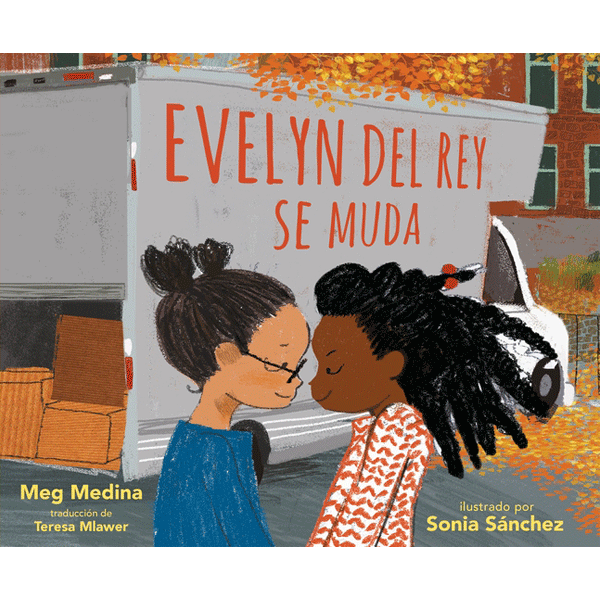 Sale
Evelyn Del Rey Se Muda 
por Meg Medina, ilustrado por Sonia Sánchez
traducción de Teresa Mlawer

Evelyn Del Rey es la mejor amiga de Daniela. Hacen todo juntas e incluso viven una al frente de la otra en la misma calle en apartamentos que son casi iguales: Daniela con su mami y su hámster, y Evelyn con su mami, su papi y su gato. Pero no después de hoy—no después de que Evelyn se mudé de su casa. Mientras tanto, las niñas juegan entre las cajas de mudanza hasta la hora de despedirse, y se prometen mantenerse en contacto, pues saben que su amistad siempre será especial.

Esta es una tierna historia sobre la amistad y los cambios en la vida, bellamente escrita por Meg Medina, realzada con las ilustraciones coloridas y vibrantes de Sonia Sánchez que describen el vecindario urbano de las niñas.
Candlewick Press

ISBN
9781536213348
10 5/8" x 8 5/8" Hardcover

32 pages
Orders received during our holiday/vacation office closings will ship on the following business day. We apologize for any inconvenience. 
Military Family Books is open Monday - Thursday 8 am - 2 pm CST. If you need help selecting resources or have special shipping needs, please call us at 651-357-8770.
Most case and bulk orders ship within one day. Noted products ship within two weeks.
Ground shipping includes USPS media mail and FedEx or UPS ground. For Priority Mail, FedEx 2 Day or other expedited shipping options, please call 651-357-8770.
For products such as ebooks and music downloads that do not require shipping, you will receive an email with a link to download your purchase.