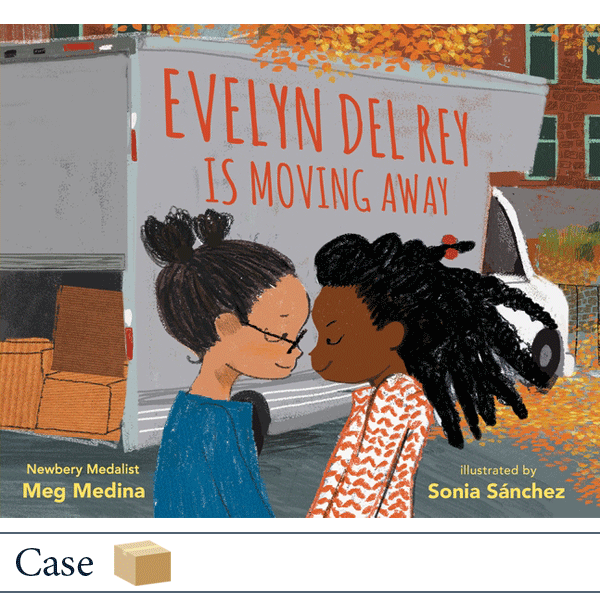 Sale
Evelyn Del Rey Is Moving Away
by Meg Medina, illustrated by Sonia Sánchez
1 Case=32 Books
A big truck with its mouth wide open is parked at the curb, ready to gobble up Evelyn's mirror with the stickers around the edge . . . and the sofa that we bounce on to get to the moon.

Evelyn Del Rey is Daniela's best friend. They do everything together and even live in twin apartments across the street from each other: Daniela with her mami and hamster, and Evelyn with her mami, papi, and cat. But not after today—not after Evelyn moves away. Until then, the girls play amid the moving boxes until it's time to say goodbye, making promises to keep in touch, because they know that their friendship will always be special.
The tenderness of Meg Medina's beautifully written story about friendship and change is balanced by Sonia Sánchez's colorful and vibrant depictions of the girls' urban neighborhood.
From Newbery Medalist Meg Medina comes the bittersweet story of two girls who will always be each other's número uno, even though one is moving away.
Ships within two weeks
Candlewick Press
ISBN 
9781536207040
10 5/8" x 8 5/8" Hardcover

32 pages
Case=32 books
Orders received during our holiday/vacation office closings will ship on the following business day. We apologize for any inconvenience. 
Military Family Books is open Monday - Thursday 8 am - 2 pm CST. If you need help selecting resources or have special shipping needs, please call us at 651-357-8770.
Most case and bulk orders ship within one day. Noted products ship within two weeks.
Ground shipping includes USPS media mail and FedEx or UPS ground. For Priority Mail, FedEx 2 Day or other expedited shipping options, please call 651-357-8770.
For products such as ebooks and music downloads that do not require shipping, you will receive an email with a link to download your purchase.