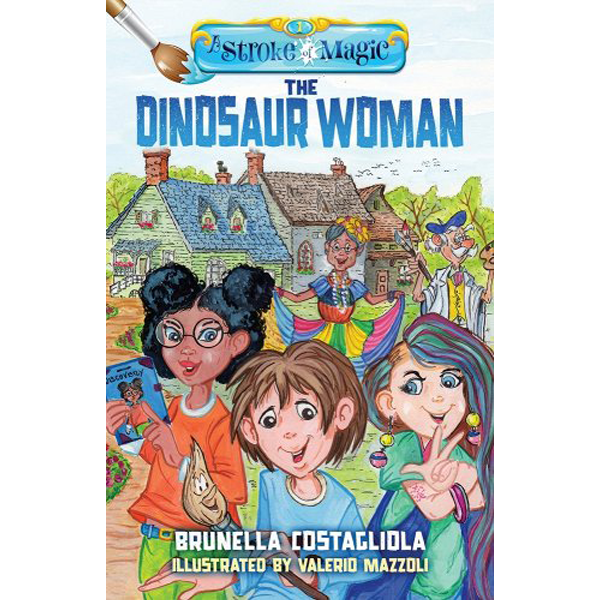 Sale
A Stroke of Magic: The Dinosaur Woman
by Brunella Costagliola, illustrated by Valerio Mazzoli
Ella and Alex are seven-year-old Italian American twins who often go to Discovery Casa, a retirement home where their mother works as a nurse. One day, while there, they meet Layla, a six-year-old Afro-Panamanian girl who goes to Discovery Casa to visit her Abuelita, who tells the three friends that there is a new resident named Art--but nobody knows anything about him because he doesn't speak to anyone. Curious, Ella, Alex, and Layla go on a mission to find out who he is and they soon discover that he is an artist who painted a rather unusual and, at first glance, incorrect painting: three dinosaurs on a beach, with a woman in the background. What is a woman doing among dinosaurs? They wonder. 
In the first book in A Stroke of Magic series, the pivotal figure is Mary Anning, the female paleontologist whose findings on England's Jurassic Coast contributed to the theory of evolution put forth by Charles Darwin and uncovered secrets about dinosaurs. However, many of her discoveries were unfairly credited to male paleontologists because of her gender, and as a result, history has overlooked her pioneering role. 
W. Brand Publishing
ISBN
978-1956906462
5.5"x8.5" Paperback
81 pages
Available:
Paperback
Case=22 Books
Bulk=132 Books
Orders received during our holiday/vacation office closings will ship on the following business day. We apologize for any inconvenience. 
Military Family Books is open Monday - Thursday 8 am - 2 pm CST. If you need help selecting resources or have special shipping needs, please call us at 651-357-8770.
Most case and bulk orders ship within one day. Noted products ship within two weeks.
Ground shipping includes USPS media mail and FedEx or UPS ground. For Priority Mail, FedEx 2 Day or other expedited shipping options, please call 651-357-8770.
For products such as ebooks and music downloads that do not require shipping, you will receive an email with a link to download your purchase.