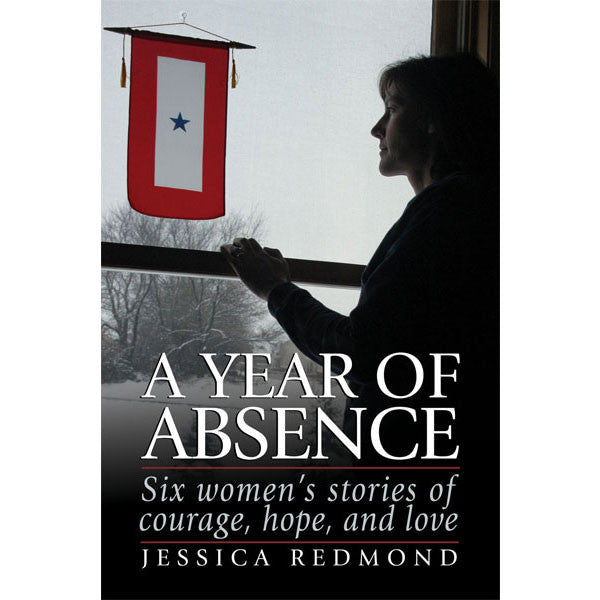 Sale
A Year of Absence: Six women's stories of courage, hope, and love
by Jessica Redmond
Six Army wives struggle to make it through their husbands' 15-month deployment to Iraq in this true story by Jessica Redmond. A young lieutenant's wife comes dangerously close to alcoholism. Marriages are pushed to the breaking point by the constant strain of the long months apart. Each morning the women anxiously scan the headlines, wondering if they still have a husband, if their children still have a father. Some form friendships that become their lifeline. Others somehow find courage despite their isolation.
Author Jessica Redmond has worked as a teacher, freelance journalist, Peace Corps volunteer, and community organizer, but one of her most challenging roles has been as a military wife. In April 2003, during their first year of marriage, her husband was sent to Iraq as part of the U.S. Army's First Armored Division. As the deployment dragged on, Jessica set out to discover how other wives were coping. She tells those stories in A Year of Absence.
Midwest Book Awards First Place Best Current Events Book
Military Writers Society of America Gold Medal Best Nonfiction Book
Elva Resa
ISBN 978-0-9657483-1-5
6"x9" Hardcover
232 pages
Also available:
Case of 28 Books
Orders received during our holiday/vacation office closings will ship on the following business day. We apologize for any inconvenience. 
Military Family Books is open Monday - Thursday 8 am - 2 pm CST. If you need help selecting resources or have special shipping needs, please call us at 651-357-8770.
Most case and bulk orders ship within one day. Noted products ship within two weeks.
Ground shipping includes USPS media mail and FedEx or UPS ground. For Priority Mail, FedEx 2 Day or other expedited shipping options, please call 651-357-8770.
For products such as ebooks and music downloads that do not require shipping, you will receive an email with a link to download your purchase.