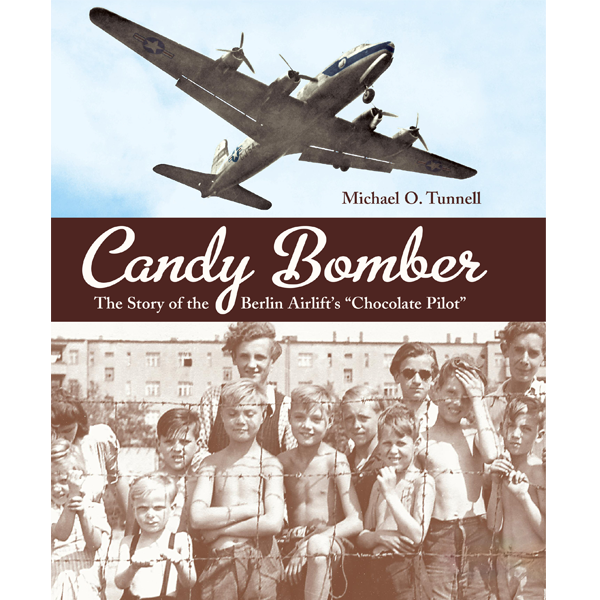 Candy Bomber: The Story of the Berlin Airlift's "Chocolate Pilot"
by Michael O. Tunnell

One WWII pilot's mission to lift the spirits of children living in war-torn Berlin in 1945 comes to life in this moving middle-grade historical account. After World War II the United States and Britain airlifted food and supplies into Russian-blockaded West Berlin. US Air Force Lieutenant Gail S. Halvorsen knew the children of the city were suffering. To bring a bit of hope, he began dropping chocolate and chewing gum by parachute.

What began as a one-time gesture of compassion turned into an official U.S. Air Force operation. "Operation Little Vittles" grew, as more and more pilots volunteered to drop the parachutes, and donations of candy and cloth poured in from all over. This inspiring story of one man's contribution to the rebuilding of a country after war is a unique look at history.

Illustrated with archival photographs, personal photographs from Lt. Gail Halvorsen—the Chocolate Pilot—letters, and documents, Candy Bomber is an important and interesting addition to studies of World War II.

Charlesbridge Publishing
ISBN 9781580893374
7 3/8" x 9" Paperback
120 pages

Orders received during our holiday/vacation office closings will ship on the following business day. We apologize for any inconvenience. 
Military Family Books is open Monday - Thursday 8 am - 2 pm CST. If you need help selecting resources or have special shipping needs, please call us at 651-357-8770.
Most case and bulk orders ship within one day. Noted products ship within two weeks.
Ground shipping includes USPS media mail and FedEx or UPS ground. For Priority Mail, FedEx 2 Day or other expedited shipping options, please call 651-357-8770.
For products such as ebooks and music downloads that do not require shipping, you will receive an email with a link to download your purchase.