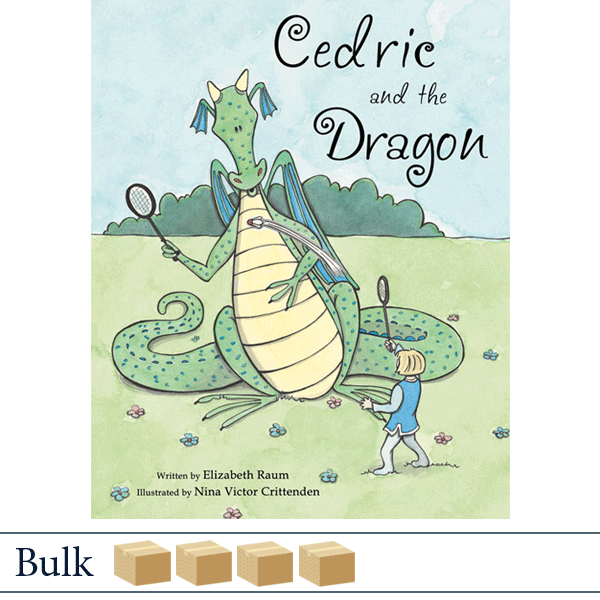 Sale
Cedric and the Dragon
by Elizabeth Raum, illustrated by Nina Victor Crittenden
Bulk = 4 cases = 200 books

Prince Cedric is slow to walk, has a tough time with reading and math, and fails miserably at dragon slaying school. But with kindness and bravery, and his love for hugs, Cedric saves the kingdom. 
This cheerful picture book reminds us there is more than one way to solve a problem and reinforces the idea that everyone has something special to offer. A gentle message about kindness with delightful watercolors and a lovable dragon.
Reminds children that everyone has special talents and skills, even if they're sometimes hidden. 
Gentle language and plot promote nonviolence as a way to solve conflict.
Great picture book to prompt discussion among preschoolers and early elementary aged children about conflict, bullying, inclusion, and making choices based on what you know is right.
Encourages young children to act with compassion toward others.
Mom's Choice Awards Gold Recipient
Christian Century Magazine Notable Books List
Alma Little/Elva Resa Publishing
978-1-934617-05-2
8" x 10" Hardcover
32 pages
Bulk = 200 books
Orders received during our holiday/vacation office closings will ship on the following business day. We apologize for any inconvenience. 
Military Family Books is open Monday - Thursday 8 am - 2 pm CST. If you need help selecting resources or have special shipping needs, please call us at 651-357-8770.
Most case and bulk orders ship within one day. Noted products ship within two weeks.
Ground shipping includes USPS media mail and FedEx or UPS ground. For Priority Mail, FedEx 2 Day or other expedited shipping options, please call 651-357-8770.
For products such as ebooks and music downloads that do not require shipping, you will receive an email with a link to download your purchase.