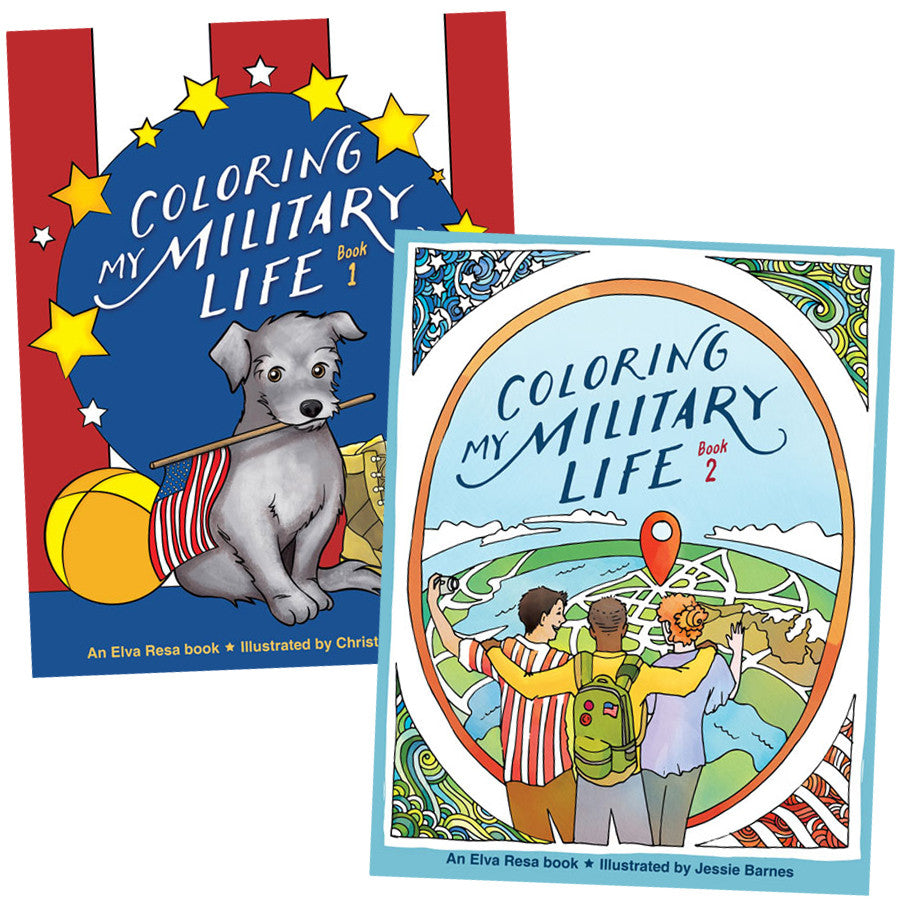 Sale
This fun pack includes one copy of each Coloring My Military Life book (1 & 2).
Coloring My Military Life—Book 1 illustrated by Christina Rodriguez
and Coloring My Military Life—Book 2 illustrated by Jessie Barnes
Military life is a colorful adventure, filled with challenges, blessings, and a whole lot of red, white, and blue. Frequent moves, deployments, and close friendships over the miles are just a few common shades. Each person in a military family lives a unique life. Elva Resa's Coloring My Military Life books let you choose your palette to express your own military life experience.
Each book contains a variety of illustrated military life situations and emotions appropriate for all ages. One-sided pages offer options to use a variety of coloring materials, take pages out of the book to frame or share, or draw your own pictures or doodles on the blank side.
Coloring My Military Life—Book 1 features level-one coloring pages with simple scenes especially interesting to younger children. An adorable puppy makes snow angels, marches in a patriotic parade, and dreams of being a superhero dog.
Christina says, "This book is an ode to the family dog—the loyal and loving companion animal who helps everyone endure the frequent geographic and emotional transitions of military life." 
Coloring My Military Life—Book 2, illustrated by Jessie Barnes, features level-two coloring pages with hand-lettering, patterns and designs, and more complex scenes especially appealing to older children, teens, and adults. Best friends, a new school day, air shows, and inventory stickers—Book 2 is packed with meaningful scenes on many aspects of military life.
"Designing this coloring book is a project that has been close to my heart, because the military community is, in itself, a sense of home for me," says Jessie. "While I poured my own military life experiences and ideas into the artwork, my intent is for others to see themselves when they open these pages."
As a set, the coloring books provide pages for everyone in the family in everyday military life.
"While Christina and I may have created the lines, it's the color that each person will bring to the pages that reflects each unique military life," adds Jessie. "We want these books to provide room for military families to express the individuality that shapes each of our stories."
Book 1 ISBN 978-1-934617-37-3
Book 2 ISBN 978-1-934617-38-0
8-1/2"x11" Softcover
Each: 64 pages, 32+ illustrations
Pack includes 2 coloring books, one of each
Orders received during our holiday/vacation office closings will ship on the following business day. We apologize for any inconvenience. 
Military Family Books is open Monday - Thursday 8 am - 2 pm CST. If you need help selecting resources or have special shipping needs, please call us at 651-357-8770.
Most case and bulk orders ship within one day. Noted products ship within two weeks.
Ground shipping includes USPS media mail and FedEx or UPS ground. For Priority Mail, FedEx 2 Day or other expedited shipping options, please call 651-357-8770.
For products such as ebooks and music downloads that do not require shipping, you will receive an email with a link to download your purchase.