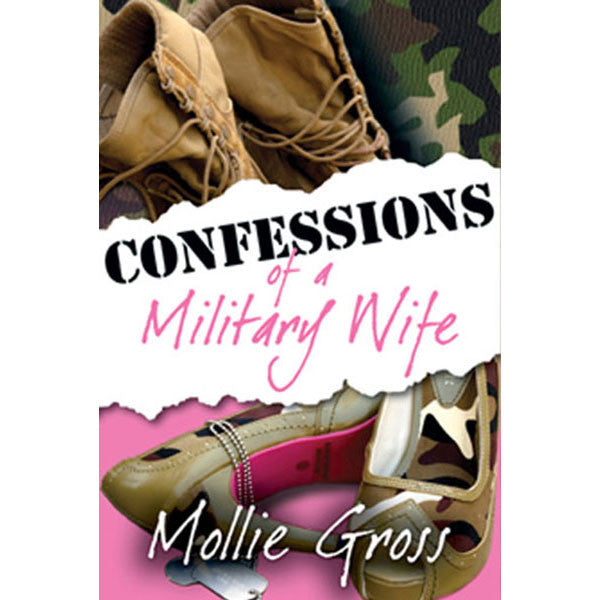 Sale
Confessions of a Military Wife
by Mollie Gross
"I remember when I hit rock bottom. There I was with no make-up on, hadn't showered, eating raw cookie dough out of the tube, hitting on the toothless bagger at the commissary, and ordering jewelry off the TV. And that was just my first day!"
Confessions of a Military Wife is an honest, witty, and often hilarious look at the life of the new generation military wife. Mollie Gross learned the hard way to laugh instead of cry at what she could not control as a military spouse, and as she quickly discovered, nearly everything was out of her control!
A standup comedienne, public speaker, and wife of a Marine Corps officer, Mollie explores everything about the "issued" spouse, from deployment and the stress of having a husband in a combat zone, to the realization that marriage changes when your husband returns home from war. Nothing is taboo or out-of-bounds in Confessions, including the "parties" military wives throw for themselves before hubby returns. (You'll have to read the book to find out about those!)
Confessions teaches all women, whether civilian or military, that they can learn to find the funny side of anything by embracing the situation and changing their perspective. And now they can do so with humor and levity, and a little wisdom.
Evocative and provocative, Confessions of a Military Wife is a can't-put-down book that will leave you laughing and crying at the same time.

REVIEWS

"Mollie Gross is the Chelsea Handler of the milspouse community. She's unfiltered, honest, and hilarious, with an underlying message to stop whining and be proud. Think of it as heartfelt humor for the homefront." —Military Spouse magazine

"This book will have you laughing so hard you cry, but mostly nodding your head in agreement. As Confessions aptly demonstrates, military spouses lead interesting lives. Leave it to Mollie to turn some of our most candid military spouse moments into fits of laughter!" —Tara Crooks, cofounder of Army Wife Network

"Better put on your big girl panties for this wild ride! Mollie's Confessions is not for the faint of heart. She expresses her faith, but nothing is sacred, so if you can handle the minute details of a Brazilian wax and what Bunco parties are really all about, dive right in. Prepare to be uplifted, and by that I mean right out of your chair. You'll either laugh uncontrollably or throw the book across the room. Either way, Mollie's tales of her life as a Marine wife will not leave you unmoved." —Terri Barnes, author of Spouse Calls
Savas Beatie
ISBN 978-1-932714-76-0
6.5" x 9.5" Hardcover
288 pages

Orders received during our holiday/vacation office closings will ship on the following business day. We apologize for any inconvenience. 
Military Family Books is open Monday - Thursday 8 am - 2 pm CST. If you need help selecting resources or have special shipping needs, please call us at 651-357-8770.
Most case and bulk orders ship within one day. Noted products ship within two weeks.
Ground shipping includes USPS media mail and FedEx or UPS ground. For Priority Mail, FedEx 2 Day or other expedited shipping options, please call 651-357-8770.
For products such as ebooks and music downloads that do not require shipping, you will receive an email with a link to download your purchase.