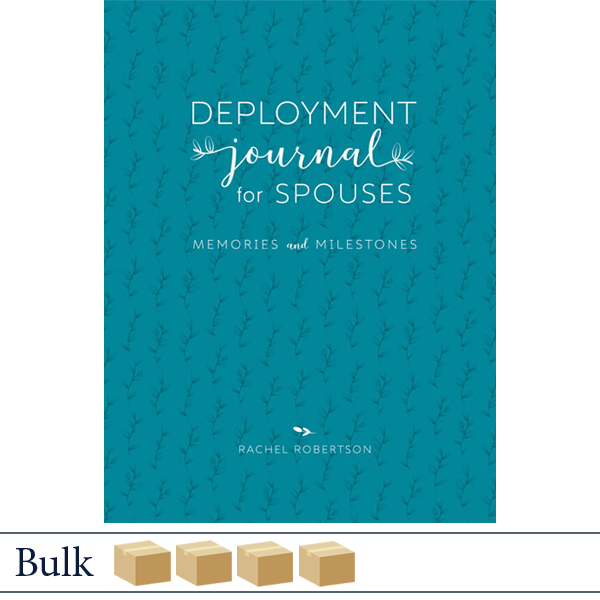 Sale
Please note: We are currently out of stock of this item, but allowing backorders. You may order as usual and your card will be charged when you check out. We will send you confirmation when your books ship.
Deployment Journal for Spouses: Memories and Milestones 
by Rachel Robertson
Bulk = 4 cases = 96 journals
This popular journal guides military spouses, fiancées, partners, or special friends through the emotional journey of a loved one's deployment, from getting ready to homecoming. Offers encouragement and perspective, with plenty of blank pages for personal creative expression.
The beautiful botanical design of this third edition evokes thoughts of growth, hopefulness, and progress through the days of deployment. Sewn teal-blue hardcover with yellow ribbon.
New and enhanced features include:
Gentle writing prompts
Inspirational quotes
Practical ideas and tips
Variety of page formats
Log to record special moments
Author Rachel Robertson blended her professional experience as an educator with her personal experience as a military wife to develop a series of journals for military families going through deployment, including Deployment Journal for Spouses, Deployment Journal for Parents, and Deployment Journal for Kids.
Elva Resa
ISBN 978-1-934617-46-5 (3rd edition)
7-1/8" x 9-1/4" Hardcover 
192 pages
Bulk = 96 Journals
Previous editions:
ISBN 978-1-934617-40-3 (2nd edition) – available in limited quantities
ISBN 978-0-9657483-4-6 (1st edition) – unavailable
Orders received during our holiday/vacation office closings will ship on the following business day. We apologize for any inconvenience. 
Military Family Books is open Monday - Thursday 8 am - 2 pm CST. If you need help selecting resources or have special shipping needs, please call us at 651-357-8770.
Most case and bulk orders ship within one day. Noted products ship within two weeks.
Ground shipping includes USPS media mail and FedEx or UPS ground. For Priority Mail, FedEx 2 Day or other expedited shipping options, please call 651-357-8770.
For products such as ebooks and music downloads that do not require shipping, you will receive an email with a link to download your purchase.