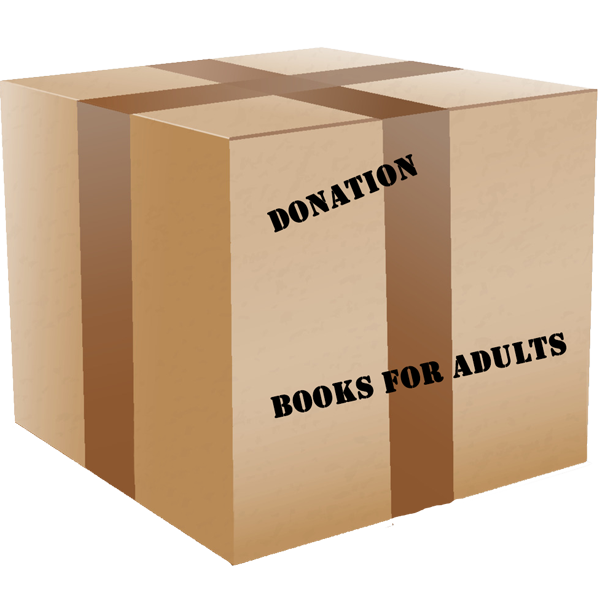 Donation Box: Books for Adults
This donation item pays to ship one carton of books from our overstock or shelf-worn* inventory to an organization on our donation request list. Average retail value of the carton of books is $640.
You pay this shipping cost, and we donate the books. Your donation box will be shipped to the next eligible organization on our donation request list.
The following organizations are eligible for our donation list:
military units and their family support groups
nonprofit and community organizations supporting military families
schools and healthcare organizations supporting military families
Donation Box: Books for Adults may include a variety of books and journals for military spouses and service members from our current inventory.
Also available: Donation Box: Books for Kids
*Shelf-worn means some books may have slightly bent corners or scuffed covers from display or handling.
**If you represent an organization that would like to be placed on our donation list, please email staff@militaryfamilybooks.com, with the subject line: Donation Request - [Name of Your Organization]. Include your shipping address, primary contact person, a statement about how you support military families, and the types of books that would help your program the most. You must meet the above criteria and have not received donations from us in the past six months.
Orders received during our holiday/vacation office closings will ship on the following business day. We apologize for any inconvenience. 
Military Family Books is open Monday - Thursday 8 am - 2 pm CST. If you need help selecting resources or have special shipping needs, please call us at 651-357-8770.
Most case and bulk orders ship within one day. Noted products ship within two weeks.
Ground shipping includes USPS media mail and FedEx or UPS ground. For Priority Mail, FedEx 2 Day or other expedited shipping options, please call 651-357-8770.
For products such as ebooks and music downloads that do not require shipping, you will receive an email with a link to download your purchase.