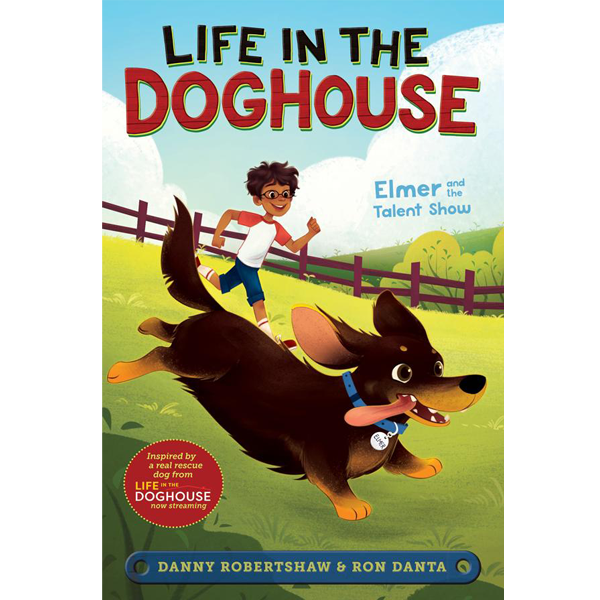 Elmer and the Talent Show
by Danny Robertshaw and Ron Danta

Inspired by a real dog from Danny & Ron's Rescue from the popular documentary, Life in the Doghouse, this first book in a sweet chapter book series follows an old dachshund who forms an unlikely friendship with the boy in his new family—a great fit for fans of Bruce Cameron's Puppy Tales series.

Elmer is a small dog with a big personality living at Danny and Ron's rescue. He wants nothing more than for someone to become his forever family. But as an older dog with a floppy tongue that doesn't stay in his mouth, it seems like he never fits the families' idea of the perfect pet.

Benny's family just moved (again), and what he wants are friends. So, when his parents announce they are getting a dog, he's so excited to show it off—until they come home with a funny-looking older dachshund. To make matters worse, his parents have signed them up for a pet training course that will end with a big talent show in front of a crowd of strangers.

Thrown together, Elmer and Benny learn that the perfect best friend might be different than they imagined—but even better than they'd hoped.

Simon & Schuster (Aladdin imprint)
ISBN 9781534482616
5.5" x 8.25" Paperback
160 pages
Orders received during our holiday/vacation office closings will ship on the following business day. We apologize for any inconvenience. 
Military Family Books is open Monday - Thursday 8 am - 2 pm CST. If you need help selecting resources or have special shipping needs, please call us at 651-357-8770.
Most case and bulk orders ship within one day. Noted products ship within two weeks.
Ground shipping includes USPS media mail and FedEx or UPS ground. For Priority Mail, FedEx 2 Day or other expedited shipping options, please call 651-357-8770.
For products such as ebooks and music downloads that do not require shipping, you will receive an email with a link to download your purchase.