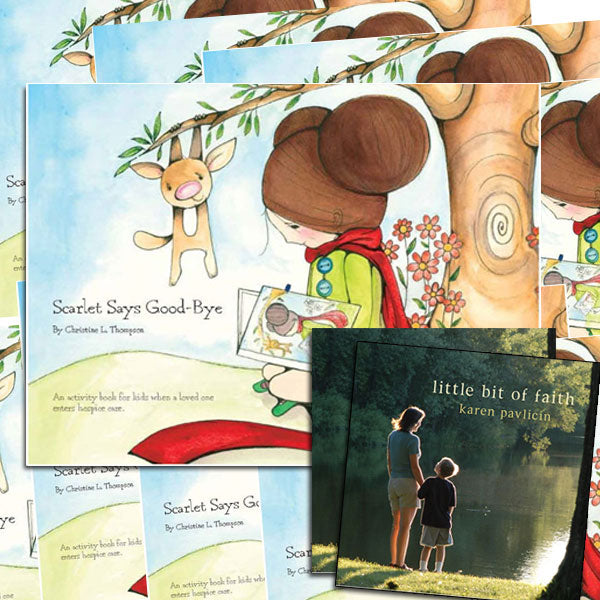 Sale
This Hospice Hope Pack is especially for organizations that support families with a loved one entering hospice. The hardcover activity book is a special keepsake resource to help kids talk about hospice with the adults in their lives. The songs on the CD encourage loved ones to cherish moments together, find faith in the journey, and look to tomorrow with hope, one step at a time.
Pack includes: 10 books + 2 CDs
Scarlet Says Good-Bye (a book about hospice)
by Christine L. Thompson, illustrated by Hillary Hempstead
When a child has to say good-bye to someone she loves, the process can be easier with a friend at her side. Join Scarlet, her best friend Elby, and the critter gang as they say good-bye to someone Scarlet loves. Follow them as they learn about hospice services and do some activities along the way. This beautifully illustrated, hardcover edition will become a treasured family keepsake. Includes a story about Scarlet, activities, journal page, and place to write a letter to a loved one.
Read more about how the idea for Scarlet Says Good-Bye came about and the impact it's having in the community.
UnitedHealthcare Educational Publishing Group/ Elva Resa Publishing
ISBN 978-0-9847622-3-1
11" x 8.5" Hardcover
48 pages
All ages
Little Bit of Faith (music CD)
Karen Pavlicin
Pure, gentle vocals bring listeners on a journey through grief to hope. Twelve songs feature contemporary blues, folk, and jazz stylings and original lyrics that give words to any heart searching for inspiration. 
Andermax Records
634479817960
Orders received during our holiday/vacation office closings will ship on the following business day. We apologize for any inconvenience. 
Military Family Books is open Monday - Thursday 8 am - 2 pm CST. If you need help selecting resources or have special shipping needs, please call us at 651-357-8770.
Most case and bulk orders ship within one day. Noted products ship within two weeks.
Ground shipping includes USPS media mail and FedEx or UPS ground. For Priority Mail, FedEx 2 Day or other expedited shipping options, please call 651-357-8770.
For products such as ebooks and music downloads that do not require shipping, you will receive an email with a link to download your purchase.