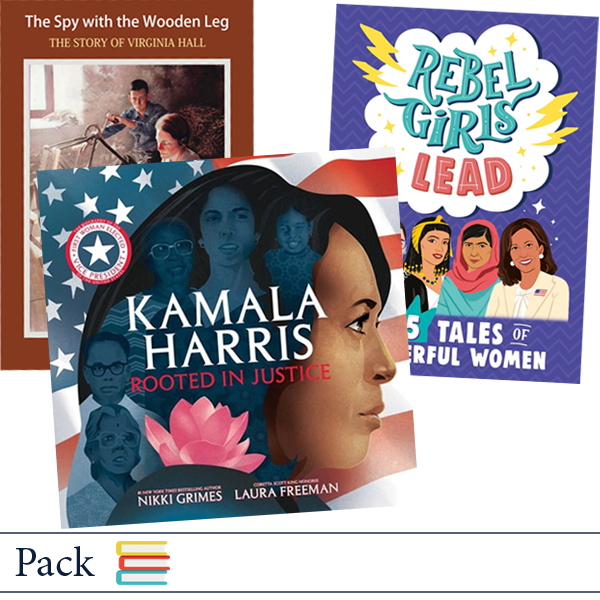 Sale
Inspiring Women Pack
Three books to inspire emerging leaders! Perfect for classroom libraries, discussions about leadership and inspiring women, or for reading at home!
This pack includes:
Rebel Girls Lead: 25 Tales of Powerful Women
by Rebel Girls, illustrated by female artists from around the world
Rebel Girls Lead celebrates the incredible and inspiring stories of 25 women leaders in politics, business, sports, activism, and more, all written in fairy tale form.

Reach for new heights with Vice President Kamala Harris. Organize voter registration with Stacey Abrams. Spread messages of kindness with Lady Gaga. And captain a team of Olympic gymnasts with Aly Raisman. From Michelle Obama to Malala Yousafzai, each woman's tale inspires emerging young leaders.

This collection of 25 stories includes the most beloved stories of leadership from the first three volumes of the New York Times bestselling series, Good Night Stories for Rebel Girls. It also features 11 brand new tales of women's activism, bravery, and vision.

Simon & Schuster
ISBN 9781953424068
6" x 9" Paperback
64 pages
The Spy with the Wooden Leg: The Story of Virginia Hall
by Nancy Polette
Award-winning middle grade nonfiction (ages 10+)
How did a young woman from Baltimore, born at a time when daughters led sheltered lives and a woman's place was in the home, become one of the bravest and most valued intelligence agents in World War II?
Virginia Hall had a dream to become the first woman ambassador for the United States. Turned down by the US State Department time and again, Virginia could not stand idly by while the German army swept through Europe conquering country after country. She volunteered to drive an ambulance in France. She rescued downed airmen, radioed vital information to the Allies, and led three battalions of French Resistance forces in guerrilla warfare.
Known as la dame qui boite or the Limping Lady, she rose to the top of the Gestapo's Most Wanted list. The Limping Lady was the spy with the wooden leg.
Elva Resa/Alma Little
978-1-934617-16-8
5.125" x 7.5" Paperback
160 pages
Kamala Harris: Rooted in Justice
by Nikki Grimes, illustrated by Laura Freeman

Discover the incredible story of a young daughter of immigrants who would grow up to be the first woman, first Black person, and first South Asian American ever elected Vice President of the United States in this moving picture book biography of Kamala Harris.

When Kamala Harris was young, she often accompanied her parents to civil rights marches—so many, in fact, that when her mother asked a frustrated Kamala what she wanted, the young girl responded with: "Freedom!"

As Kamala grew from a small girl in Oakland to a senator running for president, it was this long-fostered belief in freedom and justice for all people that shaped her into the inspiring figure she is today. From fighting for the use of a soccer field in middle school to fighting for the people of her home state in Congress, Senator Harris used her voice to speak up for what she believed in and for those who were otherwise unheard. And now this dedication has led her all the way to being elected Vice President of the United States.

Told in Nikki Grimes's stunning verse and featuring gorgeous illustrations by Laura Freeman, this picture book biography brings to life a story that shows all young people that the American dream can belong to all of us if we fight for one another.

Simon & Schuster
ISBN 9781534462670
10" x 10" Hardcover
40 pages
Inspiring Women Pack includes one copy of each book:
Rebel Girls Lead: 25 Tales of Powerful Women
The Spy with the Wooden Leg: The Story of Virginia Hall
Kamala Harris: Rooted in Justice

Orders received during our holiday/vacation office closings will ship on the following business day. We apologize for any inconvenience. 
Military Family Books is open Monday - Thursday 8 am - 2 pm CST. If you need help selecting resources or have special shipping needs, please call us at 651-357-8770.
Most case and bulk orders ship within one day. Noted products ship within two weeks.
Ground shipping includes USPS media mail and FedEx or UPS ground. For Priority Mail, FedEx 2 Day or other expedited shipping options, please call 651-357-8770.
For products such as ebooks and music downloads that do not require shipping, you will receive an email with a link to download your purchase.