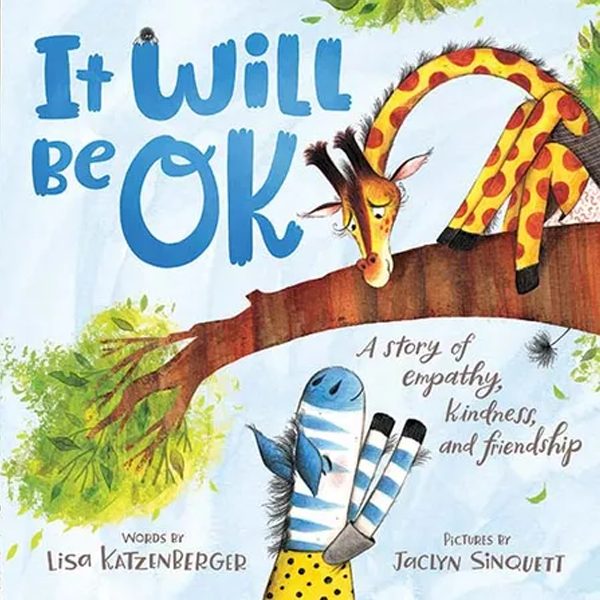 It Will Be Ok: A Story of Empathy, Kindness, and Friendship
by Lisa Katzenberger, illustrated by Jaclyn Sinquett

With his friend beside him, Giraffe felt brave.

Giraffe is hiding in a tree. Why? He saw a spider. Zebra tries to tell Giraffe that he is so much bigger and faster than the spider! But Giraffe feels scared, a little embarrassed, and refuses to come down. So Zebra does what good friends do: patiently stands by and waits.

A picture book for ages 4-8 with a delightful story, It Will Be Ok reminds us that sometimes the best thing we can do for our loved ones is listen and be present for as long as they need us. Because eventually, it will be OK!

SourceBooks Explore
ISBN 9781728222554
9.3" x 9.3" Hardcover
40 pages
Orders received during our holiday/vacation office closings will ship on the following business day. We apologize for any inconvenience. 
Military Family Books is open Monday - Thursday 8 am - 2 pm CST. If you need help selecting resources or have special shipping needs, please call us at 651-357-8770.
Most case and bulk orders ship within one day. Noted products ship within two weeks.
Ground shipping includes USPS media mail and FedEx or UPS ground. For Priority Mail, FedEx 2 Day or other expedited shipping options, please call 651-357-8770.
For products such as ebooks and music downloads that do not require shipping, you will receive an email with a link to download your purchase.