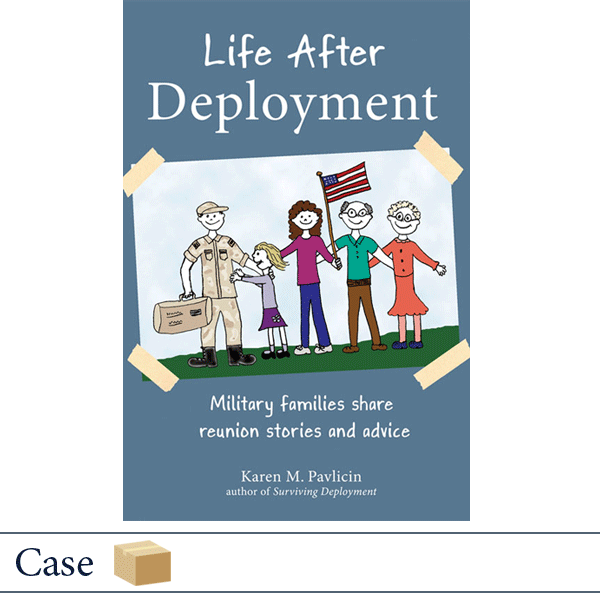 Sale
Life After Deployment: Military families share reunion stories and advice 
by Karen M. Pavlicin
1 Case/32 Books
Life After Deployment captures the tender and moving stories of military families during their reunion. Service members and their spouses, parents, fiancées, and children share the joy and anxiety of homecoming, the adjustments of living together again, and how they coped with anger, depression, PTSD, injuries, grief, and other challenges. Some families had fairytale endings. Most worked hard to rebuild their relationships after much time and change. A few suffered great losses. These military families talk candidly about what their experience was really like, offering hope and advice to others who walk this journey.
REVIEW
"I felt so guilty for a lot of the emotions I'd had during my husband's deployment and reunion. And now, we are going through it all again with our son. It's such a comfort to find out I'm not alone! I was incredibly touched by these stories. Thank you so much for blessing us with this book, your keen insights, and amazing honesty." --Julie LaBelle, military wife and mom 
*First Lady of the Marine Corps Recommended Reading List*
Elva Resa
ISBN: 978-0-9657483-7-7  
6"x9" paperback
192 pages
Case=32
Orders received during our holiday/vacation office closings will ship on the following business day. We apologize for any inconvenience. 
Military Family Books is open Monday - Thursday 8 am - 2 pm CST. If you need help selecting resources or have special shipping needs, please call us at 651-357-8770.
Most case and bulk orders ship within one day. Noted products ship within two weeks.
Ground shipping includes USPS media mail and FedEx or UPS ground. For Priority Mail, FedEx 2 Day or other expedited shipping options, please call 651-357-8770.
For products such as ebooks and music downloads that do not require shipping, you will receive an email with a link to download your purchase.