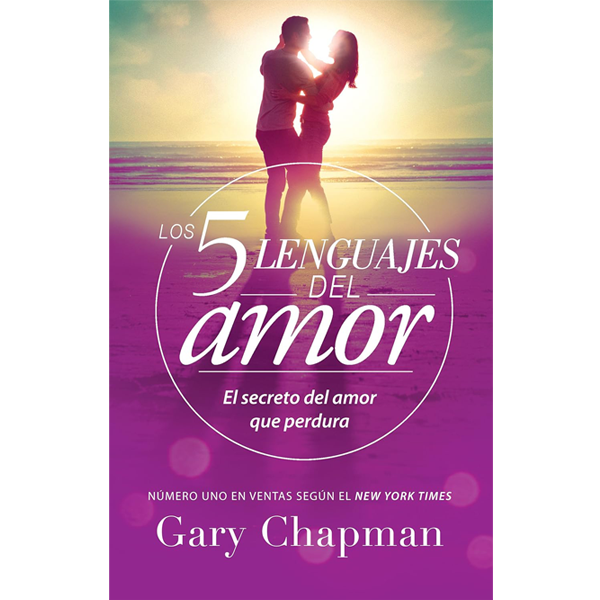 Los 5 languajes del amor: El secreto del amor que perdura
by Gary Chapman

Enamorarse es fácil. Mantenerse enamorado, ese es el reto.
¿Cómo puedes mantener tu relación fresca y creciente en medio de las exigencias, los conflictos y el simple aburrimiento de la vida cotidiana?

En el bestseller internacional del New York Times Los 5 lenguajes del amor, descubrirá el secreto que ha transformado millones de relaciones en todo el mundo. Ya sea que su relación florezca o fracase, el enfoque comprobado del Dr. Gary Chapman para mostrar y recibir amor le ayudará a experimentar niveles más profundos y ricos de intimidad con su pareja, comenzando hoy mismo.

Los 5 lenguajes del amor es tan práctico como revelador. Actualizado para reflejar las complejidades de las relaciones de hoy en día, esta nueva edición revela verdades intrínsecas y aplica una sabiduría relevante y práctica que funciona.

Incluye la evaluación del perfil personal de la pareja para que pueda descubrir su lenguaje del amor y el de su pareja.

Falling in love is easy. Staying in love―that's the challenge.
How can you keep your relationship fresh and growing amid the demands, conflicts, and just plain boredom of everyday life? In the #1 New York Times international bestseller The 5 Love Languages, you'll discover the secret that has transformed millions of relationships worldwide. Whether your relationship is flourishing or failing, Dr. Gary Chapman's proven approach to showing and receiving love will help you experience deeper and richer levels of intimacy with your partner―starting today.

The 5 Love Languages is as practical as it is insightful. Updated to reflect the complexities of relationships today, this new edition reveals intrinsic truths and applies relevant, actionable wisdom in ways that work. Includes the Couple's Personal Profile assessment so you can discover your love language and that of your loved one.

Unilit
ISBN 9780789923738
5.5" x 8.25" Paperback
208 pages

Orders received during our holiday/vacation office closings will ship on the following business day. We apologize for any inconvenience. 
Military Family Books is open Monday - Thursday 8 am - 2 pm CST. If you need help selecting resources or have special shipping needs, please call us at 651-357-8770.
Most case and bulk orders ship within one day. Noted products ship within two weeks.
Ground shipping includes USPS media mail and FedEx or UPS ground. For Priority Mail, FedEx 2 Day or other expedited shipping options, please call 651-357-8770.
For products such as ebooks and music downloads that do not require shipping, you will receive an email with a link to download your purchase.