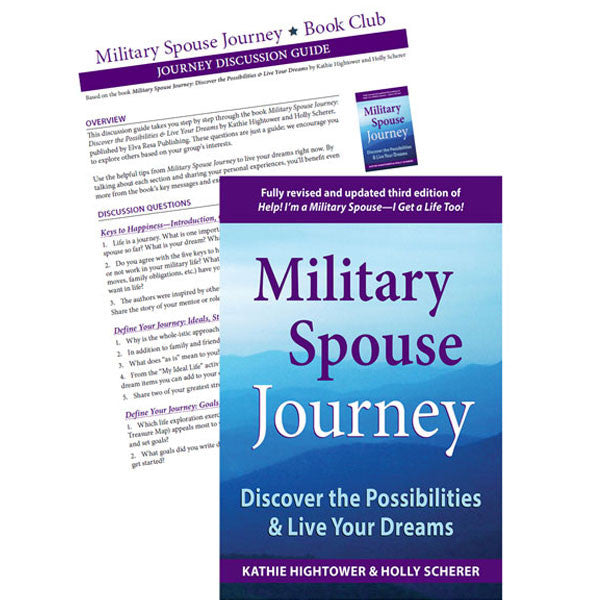 Sale
Military Spouse Journey: Discover the Possibilities & Live Your Dreams
by Kathie Hightower and Holly Scherer
Book Club Kit: 10 Books + Discussion Guide
The unique components of military life can make it challenging for military spouses to pursue careers and other personal dreams. This encouraging book, written by two experienced military spouses who discovered how to pursue their own aspirations despite the challenges of military life, will help you follow your dreams while you follow the military. Kathie and Holly share inspiring stories of how other military spouses have tapped into the richness and possibilities of this unique military lifestyle, and they offer research-based information and ideas you can use right away for your own life and dreams.
Ready to follow your dreams? This book will help you: 
Explore your passions, strengths, and goals.

Discover possibilities for the life you want to live.

Create an action plan to move forward, even when you think it's impossible.

Learn five keys to happiness you can apply every day, anywhere.

Build valuable friendships and support systems along the way.

Enjoy the journey!
This is a fully revised and updated third edition of the book previously titled Help! I'm a Military Spouse—I Get a Life Too!
Elva Resa
ISBN 978-1-934617-17-5
6" x 9" Paperback
272 pages
Also available:
Case of 32 Books
Ebook
Orders received during our holiday/vacation office closings will ship on the following business day. We apologize for any inconvenience. 
Military Family Books is open Monday - Thursday 8 am - 2 pm CST. If you need help selecting resources or have special shipping needs, please call us at 651-357-8770.
Most case and bulk orders ship within one day. Noted products ship within two weeks.
Ground shipping includes USPS media mail and FedEx or UPS ground. For Priority Mail, FedEx 2 Day or other expedited shipping options, please call 651-357-8770.
For products such as ebooks and music downloads that do not require shipping, you will receive an email with a link to download your purchase.