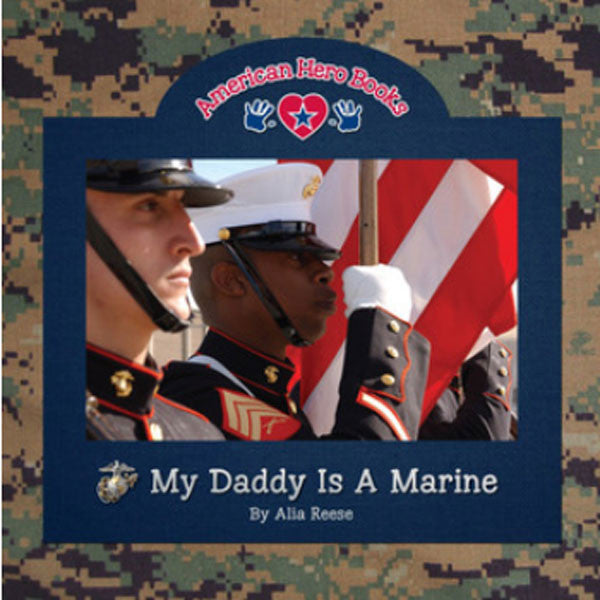 My Daddy Is a Marine
by Alia Reese
My Daddy Is a Marine is for infant-preschool children of U.S. Marines. This book helps teach kids about, and be proud of, Daddy's very important job by using text and pictures of actual Marines and equipment at work. You can insert your own pictures over those printed in the book for a truly personalized experience.
My Daddy Is a Marine can be used regardless of deployment status of the service member. When Daddy is home, insert pictures of him at work and teach about the job he does on a daily basis. When he is deployed, update the book with pictures he sends home to keep him present in the mind of the young child.
My Daddy Is a Marine fosters pride in Daddy and his job, and helps ease anxiety caused by separation due to training and deployment.
The front cover and each illustrated page have a 4" x 6" picture frame cut out to allow the reader to insert their own pictures over those printed in the books. Each frame has a clear cover so little hands can't reach the pictures placed in the book.
Heart Star Press
ISBN 978-0983313007
8" x 8" x 1" Board book
28 pages
Infant to preschool
Orders received during our holiday/vacation office closings will ship on the following business day. We apologize for any inconvenience. 
Military Family Books is open Monday - Thursday 8 am - 2 pm CST. If you need help selecting resources or have special shipping needs, please call us at 651-357-8770.
Most case and bulk orders ship within one day. Noted products ship within two weeks.
Ground shipping includes USPS media mail and FedEx or UPS ground. For Priority Mail, FedEx 2 Day or other expedited shipping options, please call 651-357-8770.
For products such as ebooks and music downloads that do not require shipping, you will receive an email with a link to download your purchase.