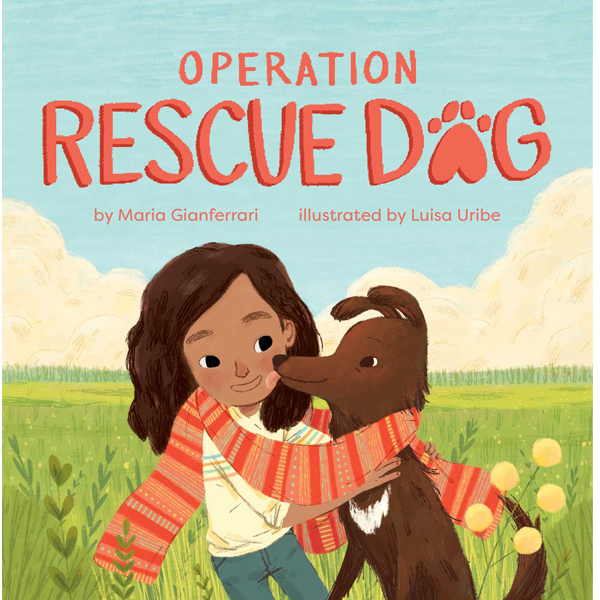 Operation Rescue Dog
by Maria Gianferrari, illustrated by Luisa Uribe

This sweet story about a girl named Alma and a stray dog named Lulu shows how a girl and a dog can rescue each other.

Lulu's ears flap in the wind

as the rescue truck rolls into the lot.

Lulu's tail thumps—

Everything smells . . . new.

Lulu sleeps under the moon, drinking from mud puddles and is covered in ticks until she is rescued. She waits for the Operation Rescue Dog truck, scared and uncertain.

Alma misses her Mami, who is far away in Iraq. Alma wears Mami's scarf around her like a hug. She wonders: Can a dog feel like a hug?

In the heartwarming and moving picture book Operation Rescue Dog, a lonely child and a lonely dog come together and find warmth, companionship, and love in each other.
Little Bee Books
ISBN 9781499806670
9.5"x9.5" Hardcover
40 pages
Orders received during our holiday/vacation office closings will ship on the following business day. We apologize for any inconvenience. 
Military Family Books is open Monday - Thursday 8 am - 2 pm CST. If you need help selecting resources or have special shipping needs, please call us at 651-357-8770.
Most case and bulk orders ship within one day. Noted products ship within two weeks.
Ground shipping includes USPS media mail and FedEx or UPS ground. For Priority Mail, FedEx 2 Day or other expedited shipping options, please call 651-357-8770.
For products such as ebooks and music downloads that do not require shipping, you will receive an email with a link to download your purchase.