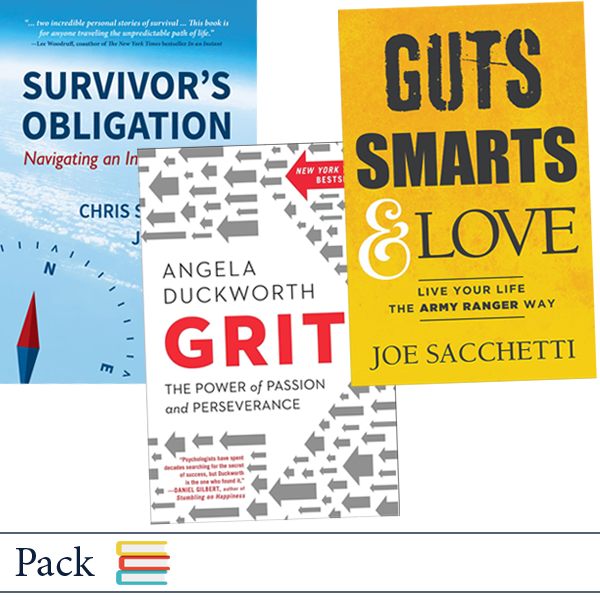 Sale
Personal Growth Pack
Reading others' transformative experiences can inspire you on your own personal growth journey!
Pack = 3 Books

Survivor's Obligation: Navigating an Intentional Life
by Chris Stricklin and Joel Neeb
Chris ejected from the F-16 he was piloting during a Thunderbirds air show. Joel was diagnosed with a rare and often fatal cancer. Against the odds, both survived, and their experiences transformed their lives. In this memoir, they explore the questions they asked themselves about why they received a second chance at life when others did not. Along their journey of healing, they discovered the power of gratitude, growth, and giving to help them navigate their everyday choice to live intentionally. Reflection questions in the back of the book allow readers to find connections in their own lives and inspiration for navigating an intentional life.
Elva Resa
ISBN  978-1-934617-47-2
6"x9" Hardcover
128 pages
Guts, Smarts & Love: Live Your Life the Army Ranger Way
by Joe Sacchetti
Years of elite military training, Ranger camaraderie, and battlefield experience taught Captain Joe Sacchetti valuable lessons. In Guts, Smarts & Love, Joe highlights extraordinary profiles of everyday Army Ranger heroes, the leadership principles they embody, and key takeaways for business and life.
Dudley Court Press
ISBN 9781940013831
5.5"x8.5" Paperback
367 pages
Grit: The Power of Passion and Perseverance
by Angela Duckworth

Drawing on her own powerful story as the daughter of a scientist who frequently noted her lack of "genius," Duckworth, now a celebrated researcher and professor, describes her early eye-opening stints in teaching, business consulting, and neuroscience, which led to the hypothesis that what really drives success is a unique combination of passion and long-term perseverance she calls "grit." She shares what she's learned from interviewing dozens of high achievers—from JP Morgan CEO Jamie Dimon to New Yorker cartoon editor Bob Mankoff to Seattle Seahawks Coach Pete Carroll, cadets struggling through their first days at West Point, teachers working in some of the toughest schools, and even young finalists in the National Spelling Bee.
 
Scribner
ISBN 9781501111105
6" x 9" Paperback
352 pages

Personal Growth Pack includes one copy of each book:
Survivor's Obligation: Navigating an Intentional Life
Guts, Smarts & Love: Live Your Life the Army Ranger Way
Grit: The Power of Passion and Perseverance

Orders received during our holiday/vacation office closings will ship on the following business day. We apologize for any inconvenience. 
Military Family Books is open Monday - Thursday 8 am - 2 pm CST. If you need help selecting resources or have special shipping needs, please call us at 651-357-8770.
Most case and bulk orders ship within one day. Noted products ship within two weeks.
Ground shipping includes USPS media mail and FedEx or UPS ground. For Priority Mail, FedEx 2 Day or other expedited shipping options, please call 651-357-8770.
For products such as ebooks and music downloads that do not require shipping, you will receive an email with a link to download your purchase.