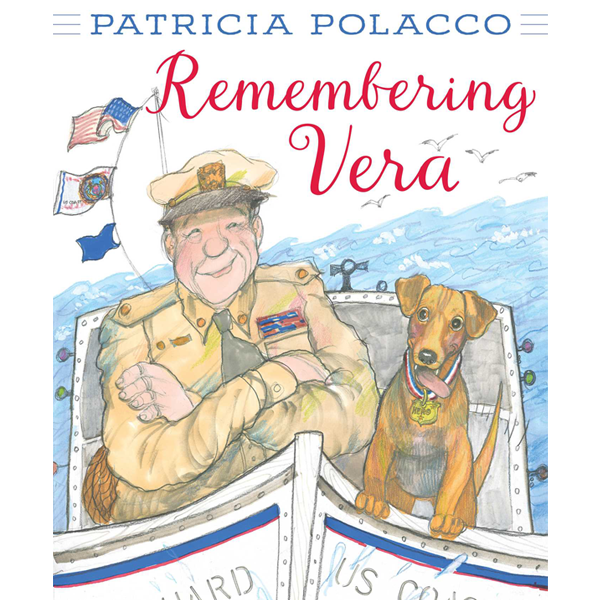 Remembering Vera
by Patricia Polacco

From beloved author Patricia Polacco comes the heartwarming true story of Vera, an amazing dog who was found as a stray by the US Coast Guard, moved into the San Francisco Bay base, and became a hero and friend.

In 1962 a stray dog was found under a pile of boxes in a Coast Guard warehouse in what used to be called Government Island, the Coast Guard Base in San Francisco Bay, when a seaman named Dave Bunch was mopping the floor. It was love at first sight. At first the men decided to hide the pup from the Commander, thinking she wouldn't be allowed. But soon enough all of the men in the barracks fell hard for the little dog. Then one day when high waves challenged another vessel at sea, it was Vera's fierce determination and natural swimming ability that brought the life preserver and safety line to the sinking boat. Vera became a hero and the beloved pet and mascot of the San Francisco Coast Guard.

Simon & Schuster
ISBN 9781481442275
9"x11" Hardcover
32 pages
Orders received during our holiday/vacation office closings will ship on the following business day. We apologize for any inconvenience. 
Military Family Books is open Monday - Thursday 8 am - 2 pm CST. If you need help selecting resources or have special shipping needs, please call us at 651-357-8770.
Most case and bulk orders ship within one day. Noted products ship within two weeks.
Ground shipping includes USPS media mail and FedEx or UPS ground. For Priority Mail, FedEx 2 Day or other expedited shipping options, please call 651-357-8770.
For products such as ebooks and music downloads that do not require shipping, you will receive an email with a link to download your purchase.