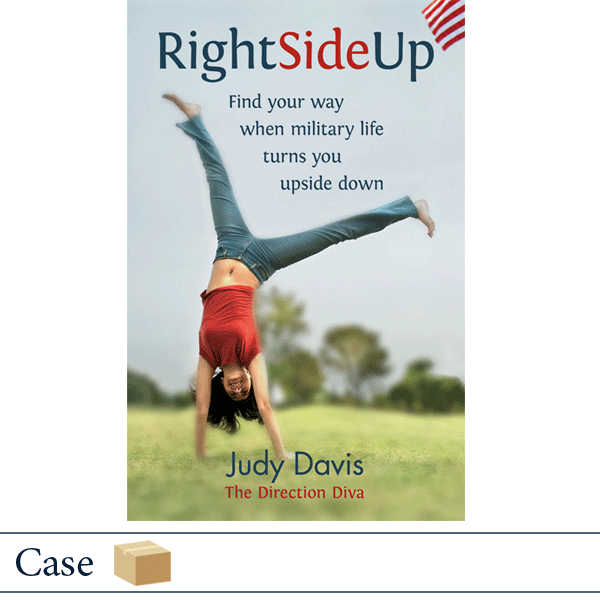 Sale
Right Side Up: Find Your Way When Military Life Turns You Upside Down
by Judy Davis
1 Case/50 Books
Constant change … drama … stress … Have the demands of military life become overwhelming? You may feel powerless right now, but every challenge and sacrifice you rise above helps you grow into the person you want to be! 
Are you ready to be happy in military life? Using this practical and motivating personal guide, written by motivational speaker and military spouse Judy Davis, you will:
Define your role as a military spouse and tweak your expectations of military life. 
Identify situations that cause you stress and create strategies to calm chaos, deal with drama, and respond to change. 
Find ways to cut the yuck from your life, make yourself a priority, and fully embrace military life. 
This book includes: 
"A Glimpse of the Life" personal stories and examples from Judy's life 
Strategies and tips to calm chaos, flush stress, deal with drama, respond to change, and embrace military life
Reflections and exercises to help you apply the information to your unique situation 
A guide at the back of the book to create your own personalized "Right Side Up Plan" with the tips and techniques from each chapter that you find most helpful for your life.
There is no one-size-fits-all answer to living a happier life—military or otherwise—but the exercises in this book will help you create your best plan based on your needs, your personality, and your insights. Move through the emotional side of military life with strength and joy—and land right side up!
Elva Resa
ISBN 978-1-934617-32-8
5.5" x 8.5" Paperback
144 pages
Case=50
Also available:
Bulk 200 books

Orders received during our holiday/vacation office closings will ship on the following business day. We apologize for any inconvenience. 
Military Family Books is open Monday - Thursday 8 am - 2 pm CST. If you need help selecting resources or have special shipping needs, please call us at 651-357-8770.
Most case and bulk orders ship within one day. Noted products ship within two weeks.
Ground shipping includes USPS media mail and FedEx or UPS ground. For Priority Mail, FedEx 2 Day or other expedited shipping options, please call 651-357-8770.
For products such as ebooks and music downloads that do not require shipping, you will receive an email with a link to download your purchase.