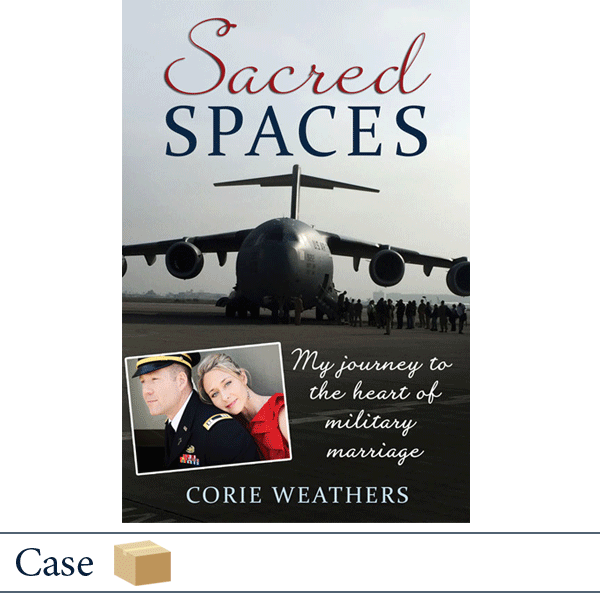 Sale
Sacred Spaces: My Journey to the Heart of Military Marriage
by Corie Weathers
1 case/50 books
Like many military couples, Corie and her husband, Matt, an Army chaplain, accumulated significant unshared moments during Matt's deployments. Matt lost friends and fellow soldiers to combat in Afghanistan. On the home front, Corie sat with bereaved military families and walked through dark days with new widows as a friend and professional counselor. When Matt returned, he and Corie began using the term "sacred spaces" for these and other significant moments they had experienced independently. After multiple deployments, sacred spaces were taking up a lot of emotional room in their relationship.
When US Secretary of Defense Ashton Carter invited Corie, as the 2015 Armed Forces Insurance Military Spouse of the Year, to join his team on a one-week overseas holiday trip, she eagerly accepted, hoping to gain a better understanding of her husband's deployment experience and lessen the impact sacred spaces had on her marriage.
Corie didn't choose the timing or circumstances of her trip with Secretary Carter—Christmastime, in the midst of her family's second cross-state move in six months—but it seemed the perfect opportunity for Corie and Matt to gain a better understanding of each other's perspectives.
Matt experienced life on the home front with new eyes as he moved their household belongings, prepared for the holidays, and settled their two young sons into their new school.
At US military installations and aboard aircraft and aircraft carriers in Turkey, Iraq, Afghanistan, and the Persian Gulf, Corie spoke with military families stationed overseas and deployed troops on the ground, in the air, and at sea. She paid close attention to her own sensory and emotional reactions to these new environments and recorded her thoughts each day via video log, blog, and social media. She also wrote about the trip for Military Spouse magazine.
While she wanted to inform other military families about her discoveries, Corie deeply hoped the trip would impact her own marriage as well. She didn't choose the locations the entourage would visit, yet fate landed her in the very place that had changed the trajectory of her life.
As Corie sat in the belly of a C-17, where her husband had said goodbye to the remains of friends and fellow soldiers, as she touched with her own hands the memorial at FOB Fenty and reflected on her grief as a care team member following the battle of COP Keating, Corie realized this journey was about much more than the push-pull of duty away from loved ones.
This was a journey to the heart of her marriage, a place where she would have to leave behind her resentment in exchange for ground she and her husband had surrendered to hurt, misunderstanding, loss—and to Afghanistan.
Corie set out on this trip hoping to gain a better understanding of her husband and his deployment experience, but along the way, she discovered a whole new perspective of herself and her military marriage. By sharing her story, Corie hopes to help other military couples strengthen their marriages.
Elva Resa
ISBN 978-1-934617-33-5
6"x9" Paperback
176 pages
Case = 50
Also available:
Ebook
Book Reviews:
"I wish this book had been around when Chris and I started our lives together. In Sacred Spaces, Corie Weathers courageously invites the reader to join her on an intricate and raw spiritual journey through the complexities of military life. Corie's open introspection, boldly sharing the most vulnerable parts of herself and her thoughts, blesses the reader with wisdom and valuable knowledge from so many angles. Sacred Spaces is a window into the soul of patriotic commitment. Your heart will break and heal with every turn of the page."
—Taya Kyle, The New York Times bestselling author of American Wife and executive director of the Chris Kyle Frog Foundation
"Sacred Spaces dips into places in my own Army marriage experience that I have never had the right words to tackle. When Corie said "yes" to visiting Afghanistan with the Secretary of Defense, she was able to gain a window into the deployment experience on behalf of all civilian military spouses everywhere. We will probably never have the chance Corie did to visit the places where our own marriages and military lives were forever changed and learn these things firsthand. In this book, Corie shares insights we can bring into our own hearts to see our own relationships with new eyes."
—Amy Bushatz, Editor, SpouseBUZZ
"Sacred Spaces by Corie Weathers is a must-read for all military spouses! Writing from her experience as a military spouse and counselor, Corie exposes vulnerable feelings and emotions, particularly those surrounding deployment.
During deployment, a spouse and soldier have completely different experiences that the other may not fully understand. Corie describes these individual moments as 'sacred spaces,' positive or negative personal experiences that shape and change a person.
Given a unique opportunity to visit deployment locations, Corie traveled overseas with the Secretary of Defense to Turkey, Iraq, Afghanistan, and aboard aircraft carriers, and created a multi-sensory description of her journey to share her insights with readers.
Meanwhile, her husband Matt, an Army chaplain, was in charge of moving their family to a new house at a new location right before Christmas. Their role reversal helped them better understand each other's perspective. 
While reading this book, I felt like Corie was right there talking to me. Her words express the difficulties of deployments and military life. I laughed and cried reading this book, because of the similar sacred spaces I share with Corie and other spouses of 3-61CAV. Each of us has our own sacred space around life-changing events that occurred during that deployment and after. My husband, Clint, and I invited the Weathers to share one of our sacred spaces, Medal of Honor ceremonies at the White House and the Pentagon. Support from Matt and Corie, then and now, has given us new insight on how to handle our own marriage."
—Tammy Romesha, wife of Medal of Honor Recipient SSG Clinton Romesha
Orders received during our holiday/vacation office closings will ship on the following business day. We apologize for any inconvenience. 
Military Family Books is open Monday - Thursday 8 am - 2 pm CST. If you need help selecting resources or have special shipping needs, please call us at 651-357-8770.
Most case and bulk orders ship within one day. Noted products ship within two weeks.
Ground shipping includes USPS media mail and FedEx or UPS ground. For Priority Mail, FedEx 2 Day or other expedited shipping options, please call 651-357-8770.
For products such as ebooks and music downloads that do not require shipping, you will receive an email with a link to download your purchase.