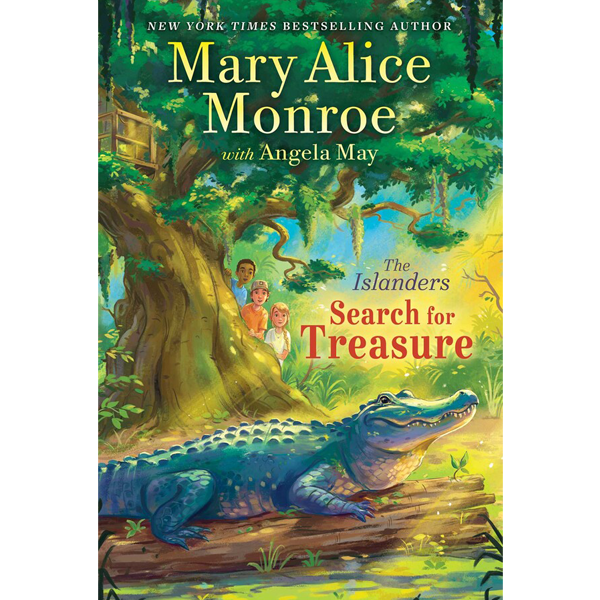 Search for Treasure
by Mary Alice Monroe, with Angela May

Jake Potter is back on Dewees Island for another summer with his beloved grandmother, Honey. This time, Jake is excited that his dad will be there as he continues to recover from his injuries sustained in Afghanistan. But Jake also knows they both need get used to a new normal, which isn't easy.

Jake also discovers that his two best friends, Macon and Lovie, are struggling as well. Macon is adjusting to being a big brother, while Lovie is navigating a new relationship with her dad, who has long been absent in her life. To cheer everyone up, Jake decides that the trio needs a new mission, just like they had the previous summer in saving the turtles. He discovers that his dad loved spending time in an old tree fort on the island, and there is a special treasure box hidden somewhere nearby. Jake just knows if he can find it, maybe his dad will be happy again—and he knows Macon and Lovie are the perfect fellow treasure hunters!

Their search leads them to discover there might be actual buried treasure somewhere on Dewees, all while they battle some unwelcome guests on the island, of both the two- and four-legged kind! On the three friends' biggest quest yet, they realize that the treasures they really want in life were with them all along.

The sequel to New York Times bestselling author Mary Alice Monroe's The Islanders, an "exciting, tender, and absolutely wonderful" (Kirkus Reviews, starred review) story of friendship, loss, and the healing power of nature.

Book 2 of The Islanders series.

Simon & Schuster (Aladdin imprint)
ISBN 9781534427310
5.5"x8.25" Paperback
288 pages

Orders received during our holiday/vacation office closings will ship on the following business day. We apologize for any inconvenience. 
Military Family Books is open Monday - Thursday 8 am - 2 pm CST. If you need help selecting resources or have special shipping needs, please call us at 651-357-8770.
Most case and bulk orders ship within one day. Noted products ship within two weeks.
Ground shipping includes USPS media mail and FedEx or UPS ground. For Priority Mail, FedEx 2 Day or other expedited shipping options, please call 651-357-8770.
For products such as ebooks and music downloads that do not require shipping, you will receive an email with a link to download your purchase.