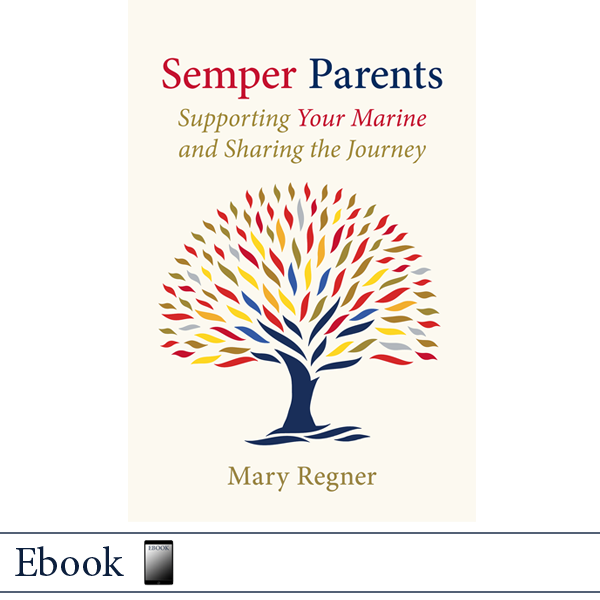 Sale
Semper Parents: Supporting Your Marine and Sharing the Journey
by Mary Regner
"… the best guide I have ever seen for any family member or friend who seeks a deeper understanding of Marine Corps life in order to provide greater support … for their Marine."
—Michael McNamara, president, All Marine Radio

"… this book should be read by every American servicemember, their parents, and their grandparents! … the lessons on relationships, deployments, transfers, and even tragedy have broad application across all services …"
—General James Conway, (Ret), 34th Commandant, US Marine Corps

Many parents have mixed feelings when their young adult child decides to become a United States Marine. In Semper Parents, Mary Regner shares practical tips and perspective from several Marines, spouses, and parents with a variety of USMC experiences to help new Marine parents find purpose in the Marine Corps, understand more about military life, answer "what if" questions, celebrate traditions, nurture changing relationships, and more.
Topics include:
finding purpose in the Marine Corps
how to join your Marine on their journey
understanding the rewards and risks of service
strategies to cope with concern and worry
important ceremonies and celebrations
an overview of the Marine Corps structure and common terms
"The guide all Marine parents need … shows how parents can join their Marine on this incredible and sometimes terrifying journey. … Read it, keep it nearby, and give it as a gift to the military family members you care about most."
—Besa Pinchotti, executive director and CEO, National Military Family Association

"… an invaluable guide to help navigate the trials, tribulations, and beautiful victories of those serving and the family members who endure the journey of service with them."
— Robin Carpenter, mother of Medal of Honor recipient Corporal Kyle Carpenter

Mary Regner is a passionate advocate for military families. She has served on boards and volunteered for many military family organizations. As a Marine Corps mom and spouse, she understands the questions and concerns that arise for a parent when their child decides to join the Marines. She and her husband, Major General Mike Regner, USMC (Ret), have supported their son and his family through two decades of service, multiple combat tours and deployments, and many moves.
Elva Resa
ISBN 978-1-934617-69-4
Ebook

Orders received during our holiday/vacation office closings will ship on the following business day. We apologize for any inconvenience. 
Military Family Books is open Monday - Thursday 8 am - 2 pm CST. If you need help selecting resources or have special shipping needs, please call us at 651-357-8770.
Most case and bulk orders ship within one day. Noted products ship within two weeks.
Ground shipping includes USPS media mail and FedEx or UPS ground. For Priority Mail, FedEx 2 Day or other expedited shipping options, please call 651-357-8770.
For products such as ebooks and music downloads that do not require shipping, you will receive an email with a link to download your purchase.